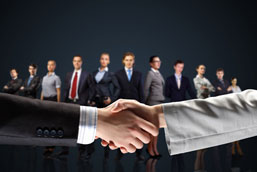 By Danielle M. Henry, communications coordinator
Last summer BoardSource announced the Certified Governance Trainers Program, a concentrated effort to expand the reach and depth of BoardSource services throughout the country through the development of a pool of BoardSource-trained trainers. We offered the first certification program in Chicago last fall. As we prepare for this year's three training programs, I sat down with Andy Davis to reflect on the growth of the program and what's happening next. Andy is BoardSource's director of training and manages the program.
When we last spoke, the Certified Governance Trainers (CGT) Program had just been announced. Tell me where the program stands now.
We now have 25 Certified Governance Trainers in the BoardSource network. They're out in their communities working with organizations. They're also staying connected with each other and hearing about news in the sector through a portal that we've set up for them. So far, it's a great mutual partnership.
What did you take away from that first training?
The first program was illustrative of the deep talent that is out there. Combining that talent with our methodology and resources is a winning combination.
How are the new trainers doing? What are we learning from them?
They're doing great work and finding that the resources that we've given them are helping in that work. The biggest thing we're learning from them is what concerns boards, such as the sequester and the fiscal cliff. We see evidence of those concerns in the Governance Index <link>, but now we're getting more detailed information, which in turn helps us better address these issues.
Who are we looking for in this next round? What are the ideal qualities of a BoardSource Certified Governance Trainer?
We're looking for people with great governance knowledge and valuable experience working with boards. We're opting for smaller classes going forward, because we want to focus on building strong relationships with our trainers. We started out with a great group of trainers, and we're excited and eager to build on that.
BoardSource is presenting the CGT course at three different times in 2013.The application deadline for the April/May course has passed. The application deadline for the June and November courses is April 1. Click here for the application.
April 29-May 1
BoardSource Offices
Washington, DC
June 5-7
Nonprofit Leadership Center of Tampa Bay
Tampa, FL
November 4-6
Century Plaza Hyatt Regency, Los Angeles