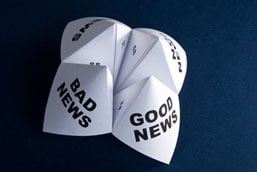 By Deborah Davidson, BoardSource vice president of governance, education, and research
Back in the '70s, a wonderful Wicked Witch named Evillene rocked Broadway in a soul version of The Wizard of Oz called The Wiz. Her signature song was "Don't Nobody Give Me No Bad News." It's an understandable sentiment; who wants to be the bearer or receiver of anything but good news?
As we begin this blog conversation about "exceptional boards," we remind ourselves that boards need both a breadth and depth of information about the organization they serve in order to fulfill their oversight duties and become exceptional. But sometimes management is reluctant to give that information, fearing the repercussions; feeling that they can handle a given issue alone; perhaps even believing that playing defense with the board is their best offense.
Which brings us to the board and management (the president) of Penn State University. So much has been written and discussed about this tragic situation, I won't try to rehash it all here, but a recent development is instructive.
Last week The New York Times interviewed 13 members of the board about the painful decisions they made to fire long-time football coach Joe Paterno, as well as Graham B. Spanier, university president. According to The Times, a grand-jury investigation into allegations of sexual abuse of minors by Jerry Sandusky, former assistant football coach, had begun in 2009, and Spanier and Paterno had given testimony by late spring of 2011. But, the trustees said, Spanier did not inform them that he had testified (he was legally permitted to inform them) before Sandusky's arrest on November 5, 2011; the trustees were further gobsmacked when Tim Curley, athletic director, and Gary Schultz, university senior vice president, were indicted for perjury based on their testimony. One trustee heard about the indictments from his son and responded that this turn of events was impossible; if it were true, he would have known it.
Then, this week, we learned that Steve Garban, board chair, and John Surma, vice chair, resigned their leadership roles, although both will stay on the board. Karen Peetz, the new board chair, said the board regrets, in particular, firing Paterno over the phone, and that it could have done things differently. While the board survived a no-confidence vote by the faculty, Peetz said the board intends to focus on change, reform, and increasing its transparency.
In the wake of Spanier's firing in November and Paterno's death last week, we may never know the full truth about who knew what, when. The board has convened an independent investigation, led by Louis Freeh, former FBI director, with no specific timetable to release the findings.
What are the lessons for the board? Certainly Peetz's pledge to increase the board's transparency is a great first step towards rebuilding a constructive partnership. But transparency works both ways. The board cannot operate in a vacuum. It is incumbent upon management — be it a university president, a chief executive, or an executive director, and his or her staff — to ensure that the board has all the information it needs to govern, and it is hoped, govern exceptionally.
Another great Wiz song was "Ease On Down The Road." Nobody ever said governance was easy. But in governance, as on that yellow brick road, somebody's got to be the bearer of news, whether good or bad, and if the board doesn't think it is getting the right quality and quantity of information, it has got to ask for it.