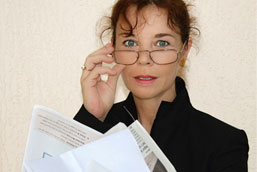 By Outi Flynn, Director of Knowledge Resources
Let's say you have hired a governance consultant to help your board get more engaged. Assuming she's worth her salt, she requests to see meeting minutes from the last year or two to help her get the lay of the land. Wouldn't it be nice to hand her your meeting minutes binder and voila! Mission accomplished with no effort? Unfortunately, it's not that easy for you.
You know there's a reason why your board needs that consultant. Your invisible minutes are just one example of the way you constantly waste time trying to figure out whether Mike's or Rachel's memory is better in determining how you voted on that issue in November. Seven out of 12 members have "forgotten" to hand in their annual contributions. It often seems that the 20/80 rule applies to your board: three members keep the board "active."
Then, the final insult: The Daily Journal calls to discuss your process for determining executive pay. Of course, you did a good job but, "process"? Maybe you compared surveys and talked to other local organizations but when, how, and who? The process is lost to the ages.
Sometimes organizations hit rock bottom before they realize that the current processes just aren't working. YouthPride, a Georgia-based nonprofit serving LGBTQQ youth, made headlines recently with the story of the group's pending eviction from its premises. What I found most shocking? A group of interested parties formed a task force to help the organization, but the chief executive couldn't produce the most recent budget or minutes of board meetings from 2009-2011 for them!
This is just one example of the importance of maintaining board documents. All too often, organizations learn about this necessity too late, and after the courts are involved. Even if it never comes to court, keeping track of these documents just makes sense. How can anyone associated with your organization have confidence in a course of action if you don't remember how or when it was decided? Additionally, maintaining these documents is one the most important aspects of ensuring legal and ethical integrity, the ninth of the Ten Basic Responsibilities of Nonprofit Boards.
BoardSource recently posted a new white paper on its Web site that outlines all the governance documents your board should be able to easily access and be familiar with. Some of these documents are legal in nature so you ignore them at your organization's peril. And it's simply good practice to have them in order.
Documenting your processes does not make you a stickler. It may save your life.
What documents make your must-have list? Where and how to do you store them? In the weeks ahead, we'll be discussing technology's role in storing them but for now, we'd love to hear from you in the comments section below.