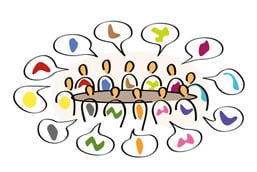 by Andy Davis, director of training
As you may or may not be aware, BoardSource recently launched a new online training program for nonprofit board members leading to The Certificate of Nonprofit Board Education. This six-part webinar series is designed to more or less match in both scope and content one of our flagship in-person trainings, Critical Components of Effective Governance. In short, upon completion of this webinar series or Critical Components, participants will possess the skills and governance knowledge needed to be an active and engaged board member starting on day one of their board service. But, this blog post is not about the certificate, it's about the demand we've seen recently for training and what that means in the sector.
First though, let me brag a little bit. Since we began marketing the webinar certificate series in early February, we have had tremendous positive response. So much, in fact, that we sold out our first series and are well on our way to selling out series #2, which begins in June. While, not a quantifiable statistic, it feels to me like there has been more excitement from our members and clients around this certificate series than any other product launch we've had in my four years with BoardSource. But, it does beg the question, why? After all, BoardSource has been offering training for decades. Why the uptick in interest now?
In what seems at times like our never-tiring interest in comparing nonprofits to for-profit corporations, many of us have long assumed that professional development is a luxury that for-profits can afford and that nonprofits have to go without. Whether this reflects a loyalty to low overhead or a notion that nonprofits aren't sophisticated enough to need true professional development is irrelevant, because, in my opinion, both are wrong.
Some people believe that the increased interest in professional development is tied to the IRS's recent interest in oversight and governance, which is reflected in the redesigned 990. Others point to Sarbanes-Oxley legislation, and many believe that the interest that states such as Oregon and New Hampshire have shown in increasing scrutiny for nonprofits and ensuring that board members are educated on their roles is a driving factor. But, let's be honest, we are approaching the 10-year anniversary of SOX, the redesigned 990 was introduced four years ago, and states tinkering with laws regarding nonprofits and their board members has become somewhat common place recently. So, are these really relevant driving factors?
Why is it that if nonprofit board members are demonstrating a desire to learn more, to grow, to be better stewards that there must be the fear of a "hammer" present? As we continue to emerge from one of the worst financial crises in 80 years and try to grow accustomed to the norm of unpredictability, we have learned a lot. And, one thing that board members and staff have communicated to BoardSource is that the status quo is no longer acceptable.
Legislation and warnings are well and good, but nothing gets our attention like a red balance sheet, seeing our peers and competitors close their doors, and the fear that those who depend on our organizations will have to go without. No one will ever argue that nonprofits haven't, before now, cared immensely about fulfilling their missions, providing seamless service delivery, and ensuring that their organizations operate in an effective, efficient manner. But, I think recent events and the new normal we are growing accustomed to has taught us to value and get the most out of every resource at our disposal — and, unfortunately, our most valuable resource — our boards — have often been valued for only a fraction of their worth.
We can no longer afford to have disengaged board members who don't understand their roles and responsibilities because they might be powerful in the community or great fundraisers. We've come to understand that the value of having a knowledgeable fiduciary at the table — someone who understands the financial and legal implications of real nonprofit board work — is immense. When we are able to combine these skills and abilities across a team of diverse, talented individuals to help chart a thoughtful, exciting, responsible course for the future of our organizations, we are truly creating the best nonprofit possible. When a bright, secure future is the carrot, who needs a stick?
Maybe I'm wrong (it's happened occasionally in the past) about this, which is why I want to know what you think. Why are nonprofit boards seeking training?