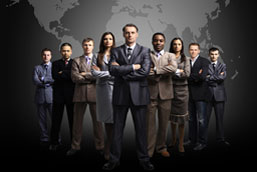 By Danielle M. Henry, communications coordinator
BoardSource recently announced that it is building a network of BoardSource certified governance trainers to better meet the ongoing need for governance training among nonprofits throughout the country. I sat down with Andy Davis, BoardSource's director of training, to discuss the inspiration behind the new program.
How did the idea for the Certified Governance Trainer Program develop?
BoardSource has been thinking about this for quite some time. Our mission is to advance the public good by building exceptional nonprofit boards. We realized that we just couldn't reach the thousands of smaller nonprofits that want our services. Expanding our trainer pool seemed to be the logical solution, but we needed to make sure that we had the right people in the room and that they had the information — in terms of BoardSource methodology, curriculum, and theories— that will be of most benefit to the client. It took us a while to figure out how we could be systematic about this. We're not trying to promote a blanket methodology, but we do need to ensure that our trainers are transferring the knowledge and information that BoardSource has gathered from working exclusively on nonprofit governance issues for 24 years.
Tell us some details about the program.
We're inviting people to apply for the certification program and then hand-picking a select number of them to participate in a three-day, interactive, certification course in board governance topics, advanced facilitation techniques, and BoardSource training methodology. This training will take place in Chicago prior to the BoardSource Leadership Forum and be followed by attendance at the conference. Those trainers who can demonstrate at the conclusion of the training that they are effective governance trainers will be certified for one year, pending client evaluations and remaining in good standing with BoardSource.
One aspect of the program that I'm really excited about is that we're creating an environment that will allow our trainers to talk about issues and problems and discuss the best way to deliver services among a peer network of like-minded individuals. Being an independent trainer, or even a trainer within a firm, can be a lonely job. A lot of times, you're on the road and you don't have someone to bounce ideas off of or talk through problems with. What we're creating here is a network of nonprofit trainers who will be able to provide high-quality governance training to nonprofit organizations throughout the U.S. and a community of trainers who are able to lean on each other to discuss problems and issues and by extension be able to serve their clients better.
I'm also excited that we have an incredible person lined up to lead the training. One of the reasons we chose her for this session is her ability to create a sense of team and a sense of camaraderie and a sense of companionship among individuals. So these three days that the trainers will spend in Chicago together will be pretty powerful and an impactful opportunity to not only learn from each other but to create friendships and to grow in one's knowledge of nonprofit governance.
So you're planning to reconvene these trainers?
It's still in the works, but what we'd love to see is an annual or maybe semi-annual convening. More than that, we'd like to create an online community where these trainers can bounce issues off of each other. Maybe we'll include a quarterly conference call or webinar, along with a private online group to share problems and concerns.
Can you expand on how this program will help BoardSource fulfill its mission? And, how it helps other nonprofits fulfill their missions?
BoardSource trainers, me included, have asked this question for a long time: How do we really touch smaller nonprofits? If our mission is about promoting board service and creating exceptional boards, how do we do that with the smaller nonprofits that traditionally haven't been able to take advantage of our training programs? This particular program allows us to identify trainers who we know are effective and increase the capacity for nonprofits across the country and their boards. Now we'll be able to deliver our services in many more communities while training trainers to really understand our approach to nonprofit governance.
BoardSource knows that stronger boards lead to stronger organizations. Stronger organizations lead to better outcomes as it relates to mission. Better outcomes lead to better communities. It starts at the macro level. We have to get strong organizations before we can feed that hungry child or save that kitten. If we're able to train trainers all over the country to work with boards and make them more effective and efficient, then we're able to help those nonprofits fulfill their missions.
What is the ultimate goal of the program? To reach as many nonprofits as BoardSource can and help them become more effective and improve their outcomes?
That's the long-term goal of the program. We're going to take small steps in the beginning. We'll add 15 or 20 new trainers this year, maybe 15 or 20 new trainers next year, and so on. It's important to respect our trainers and the businesses that they've already created for themselves. We would hate to saturate one geographic market. We don't want to have 75 BoardSource-trained trainers in Louisville, Kentucky. We don't want to have 100 trainers in Birmingham, Alabama. We want to have one or two in different geographic regions so we're not watering down our message and we're keeping an incentive for trainers to be involved with us. If trainers aren't receiving something from us, then they're going to lose interest in working with and promoting BoardSource.
What will BoardSource certification mean to an eligible trainer? Why would someone be interested in this program? There are other organizations with similar certifications. What does the BoardSource certification mean?
I say this as humbly as possible: For the past 24 years, BoardSource has been recognized as a leader in nonprofit governance. When nonprofit trainers in smaller communities are able to leverage the BoardSource training method and the BoardSource brand in their own businesses, I think that's a win for us, a win for them, and a win for the nonprofit organizations in their communities. It's not just being able to leverage our logo, our materials, our seal of approval, as it were. It's also about building a relationship with BoardSource. Being able to collaborate, inspire, and refer business with each other. At the end of the day, the arrangement is mutually beneficial.
Applications for the Certified Governance Trainer Program are due July 13. Learn more here.