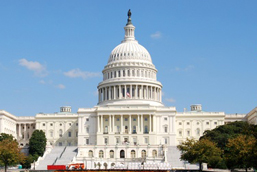 By Kate von Richthofen, strategic development and partnerships manager
For months now, Americans have been barraged with a seemingly endless stream of panic around the national budget, the fiscal cliff, and most recently – sequester. On Friday, March 1, 2013, Congress failed to come to an agreement on a federal spending package, leading to the implementation of an official sequestration order resulting in the cancellation of $85 billion in government spending over the next seven months. The effects of sequestration are being spun by both political parties and the media, but when we take away all the rhetoric, this question remains: What do these government spending cuts really mean for the nonprofit sector?
First of all, it's important to understand that the ramifications of the spending cuts will roll out over several months. Much like Y2K, March 1st was rather anticlimactic, as Americans held their collective breath waiting in futility for government offices across the country to close their doors. It is unlikely that any government offices will close at all; however, furloughs, starting as soon as March 26, 2013, have been confirmed in several government offices, including the Pentagon, the IRS, and the Department of Housing and Urban Development.
While furloughs have been one of the sequestration repercussions receiving the most attention, some other fallouts will have a much more profound impact, either directly or through the domino effect, on the nonprofit sector. For instance, government funding for elementary and secondary education will experience significant cuts, resulting in teacher layoffs and cuts in Head Start. This means larger class sizes and less-experienced teachers, resulting in less individual attention and capacity to recognize children in need. This also means more families will be looking for supplementary educational services and after-school programs, such as literacy programs and other tutoring, raising the programs and services demands on nonprofits in the field.
Cuts to unemployment benefits and lower job creation levels mean smaller unemployment checks for shorter benefit periods, adding more strain to nonprofits providing food, health services, job training, interview clothing, and more. In a broader sense, spending cuts in all sectors will lead to drops in child vaccinations, HIV testing, meals for senior citizens, mental health services, and food aid and nutrition education, all of which will put added strain on local nonprofits to fill the gaps. In addition to the increased demand for services, nonprofits reliant on federal funding will experience funding cuts, amplifying the strain on their ability to deliver. To determine what areas will suffer the most in your region, check out the White House's estimates of state-by-state impacts of sequestration.
With every period of financial instability in this country, the nonprofit sector has seen a quick uptick in the number of nonprofits. In order to meet all the demands for services, more nonprofits pop up, which unfortunately can be anathema to providing more services. Duplicative nonprofits lead to fierce competition for funding, which is already getting tighter. Funding ends up being spread even thinner, leaving all nonprofits struggling to provide both quality and quantity. In turbulent financial times, those contemplating starting a new nonprofit would be better off collaborating, maximizing efficiencies, and considering partnerships with other nonprofits in similar and/or supplemental mission areas to increase the quality and quantity of programs and services.
Has your board started conversations around the effects of sequestration (directly or indirectly) on your organization and/or community? I can't think of a single nonprofit in the country that won't feel the impact in one way or another, and those boards that start the conversation early will have a significant advantage over others. Is your focus collaborating with new and different partners to expand your services to meet higher demand? Are you focusing on diversifying your portfolio? Are you considering cutting back on less efficient programs to focus more resources in other areas?