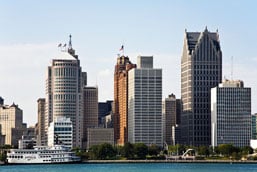 By Jennifer Deng, Senior Director of Strategic Planning and Development
Detroit is one of my favorite cities in the United States. It is tough, salt of the earth, and marked by a special kind of beauty that reflects the pride, success, and progress of a time gone by. And, I love the energy displayed by Detroit's deeply loyal citizens. Their unwavering commitment to their community garners my appreciation and respect.
Detroit is not unlike other cities in the United States that have been through hard times. Stockton, California, comes to mind, as does my own home town —Washington, DC. They too have experienced the highs and lows, the thrills and anxiety, that accompany cycles of prosperity, poverty, and income disparity and distribution. But, DC is not bankrupt. Detroit and Stockton are.
In response to Detroit's recent bankruptcy filing, many have been trying to determine how this great city and its population of 700,000 will lift themselves back up. One such analysis, published on July 24, 2013, in The Nonprofit Quarterly, spotlighted how nonprofits can help revitalize Detroit in four areas. A sound and comprehensive article, it focused on social entrepreneurialism, incubation of small business, and finding ways through social services and educational programs to honor a promise made by Michigan Governor Rick Snyder and Emergency Manager Kevyn D. Orr: Despite bankruptcy and a debt burden of over $1 billion, the day-to-day lives of those who call Detroit home will not be impacted. However, throughout the entire article, a fundamental requirement for successful, sustainable change was not addressed: quality leadership and exceptional governance.
Without a doubt, nonprofits are critical to the forward progress of Detroit. And I am confident that the city will have little difficulty finding a cadre of people and organizations committed to fighting entrenched social challenges and identifying opportunities to rebuild. My concern is that we are not recognizing the role that effective governance plays in any rebuilding process. As new initiatives form and momentum develops for rebuilding the city, the city will require nonprofit board leaders who are skilled and who understand their governance roles and responsibilities. Their accountability to the success of their organizations is inextricably linked to the success of Detroit.
In May 2013, the Johnson Center at Grand Valley State University published the 2013 Nonprofit Needs Assessment: A Profile of Michigan's Most Urgent Professional Development Needs. What topped the list? Training for board members!
I agree with the article published in The Nonprofit Quarterly: Nonprofits are key to the revitalization of Detroit. Now it's time to provide their board members and chief executives — their tough, committed leaders — with the governance training they need to guide their great city to a brighter future.