By Judy Frick, Robert HB Baldwin Fellow, Communities In Schools National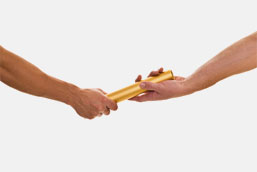 The third in our series of blog posts by BLF 2013 speakers.
Succession planning and leadership transition involve far more than just replacing a leader. Succession planning is ensuring that the organization can move forward, that its systems are in place, that information is accessible, that its strategic plan is updated. Succession planning means knowing where the key to the storage room is, having the access codes to financial information, and storing information about donors in an electronic database rather than in the executive's head.
A failed leadership transition incurs costs at many levels, going beyond our ability to provide services. One source estimated the cost to be ten times the executive's base salary. Think about the massive amounts of staff and board members' time invested in recruiting and training a new leader or the loss of major donor and funder relationships when the transition fails. What about missed opportunities for funding or expansion? What happens when community confidence and staff morale crumble as the organization deteriorates? Staff and board turnover can be debilitating. How long does it take for an organization to recover from a failed leadership transition and move forward?
Through research I conducted as a Baldwin Fellow, I was able to identify the basic ingredients of a succession plan — the minimum that every organization should have:
A leadership succession policy describing what will happen during a planned or unplanned leadership transition.
An emergency succession plan ensuring that key leadership and administrative functions, as well as agency services, can continue without disruption in the event of an unplanned, temporary, or permanent absence of an executive.
A leadership/talent development plan providing "bench strength" for the organization during periods of transition.
My project findings also identified the Executive Transition Management (ETM) model as a best practice strategy incorporating all the components of a well-planned and implemented leadership transition. It organizes the succession planning process into three phases:
Prepare. The preparation phase addresses the organization's executive leadership needs during the transition and clarifies the organization's strategic direction and transition implications.
Pivot. This phase includes identifying areas that need to be strengthened prior to the new executive arriving, including work with the board and staff and ensuring that financial, human resources, program operations, and data management systems are in place. This phase also includes the search and hiring processes.
Thrive. This phase recognizes the importance of providing appropriate orientation, support, and learning agendas for the newly hired leader.
The ETM model can be implemented with the help of a consultant or ETM services firm, or a board can implement succession planning and transition activities internally.
The evidence is undeniable: Succession planning, strategic leadership development, and planned transitions are not optional. They are vital components of healthy organizations and investments in the communities our organizations serve. For Communities In Schools, these investments are crucial to the success of those we serve.
Judy Frick will be presenting a session on succession planning and sharing a succession planning toolkit she developed for Communities In Schools at BLF 2013.