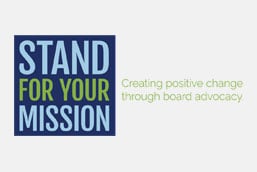 The Annenberg Foundation funds what it considers to be a nonprofit's most important asset — its leaders, both staff and board. Why? Because it sees a direct correlation between a nonprofit's results and the strength of its leadership. Eight years ago, to further its mission, the Annenberg Foundation created Annenberg Alchemy, a leadership training program for nonprofit board chairs, board members, and chief executives living, working, and serving nonprofits in the Los Angeles area. BoardSource is an Annenberg Alchemy strategic partner and its consultants are among the program's facilitators.
Sylia Obagi managed Alchemy for the past eight years. Now in transition between her role as Annenberg's director of programs and operations and her new role as the first executive director of the Roy and Patricia Disney Family Foundation, Sylia sat down with Anne Wallestad, president and CEO of BoardSource, to share her perspectives on the connections between grantmakers, governance, and organizational success.
Anne Wallestad: The Annenberg Foundation has put a stake in the ground that board leadership and governance is something it cares deeply about. Tell us how it came to that thinking, and why it's so important to the Foundation.
Sylia Obagi: Annenberg's mission is advancing a better tomorrow through visionary leadership today. It believes that visionary leadership at the CEO and board level will drive impact, results, and sustainability — ensuring that an organization can make the greatest impact with every dollar that it spends. Many staff members of the Foundation have come from the nonprofit side and experienced firsthand what's possible when you've got effective, engaged board leadership and a strong board–staff partnership. We've also seen that a dysfunctional board can bring an organization down.
To understand our theory of change, you just have to look at the numbers and ratios as they relate to nonprofit leadership. We've got roughly a million nonprofits and a million chief executives in this country. That's a big pool of leaders, but when you compare it to the 15 to 20 million board leaders who are also closely aligned with the success of our nonprofits (and ultimately responsible for their success), you begin to see that grantmakers have been investing their time, energy, and resources disproportionately. As grantmakers, we need to invest more in board member training — ensuring nonprofit organizations have volunteer leaders who support an organization's resiliency. Changes in the nonprofit landscape are constant, demand for services is growing, and funding is always fluctuating. Therefore, the resiliency of a nonprofit depends on its volunteer leaders' ability to proactively navigate these difficult dynamics on behalf of their organization.
In the eight years since we launched Annenberg Alchemy, we've seen it really transform organizations. It's about shifting a paradigm, shifting a culture, creating a new way of thinking about governance and how critical it is to organizational effectiveness.
AW: I couldn't agree more. At BoardSource, we talk about creating a paradigm where organizations are thinking about board development as something that happens on an ongoing basis, that you can always improve and strengthen your board, that it's not about episodic interventions that answer a specific challenge or issue but an ongoing commitment to intentionality around governance practices. What are some of the issues or challenges you've seen boards help organizations overcome?
Boards can overcome any challenge when they have the right organizational culture in place. I have seen organizations completely turnaround from insolvency once the leadership determined that a new way of working was required and had the courage to implement change.
The saying "Culture eats strategy for breakfast" applies to nonprofit boards and their ability to lead. Nonprofit organizations that break away from a culture of scarcity and instead embrace a culture of possibilities and potential see dramatic changes in their overall health and success. These organizations move away from seeing themselves at the mercy of ever-changing industry dynamics to becoming champions of change on the leading edge of fulfilling their missions.
A change in organizational culture begins with leadership and the tone at the top. CEOs and board chairs must have the courage to be the organization's change-agents! And, they will be more effective when they work as partners. Together, these two individuals can create governance practices that leverage board member talent, resources, and relationships, while also leading with a deep sense of accountability for board performance. When the CEO and board chair embrace the board as an important asset that is worthy of investment to maintain its value, the potential for doing better as an organization is endless.
For many organizations, this means becoming much more thoughtful and strategic about whom it recruits for a position on the board and why. There are a lot of steps to take to bring on the "right" talent — talent that aligns with the organization's long-term goals — including establishing clear board member expectations and cleaning house. We've seen board members choose to leave the board when their roles and responsibilities are articulated and expectations are clearly established. They opt out for a variety of reasons. However, this isn't necessarily a bad thing. Their departure can create space for new leadership, for identifying and securing the kind of talent that will help take an organization to the next level of success. Some questions the leadership team can ask itself when thinking about board expectations include: "What are we tolerating as it relates to board leadership?" and "How has this served us?"
AW: What do you see as some of the barriers to strengthening nonprofit board leadership? What are we up against?
Nonprofits tell me that they are challenged by a lack of money and talent to support good governance. This can be addressed in two ways. First, board members themselves are in a position to prioritize fundraising to support governance as well as make personal contributions to hire a trainer or consultant for this purpose. Second, grantmakers must educate their own boards of directors about the value of investing in nonprofit governance in addition to program grants. By investing in governance, grantmakers will see a correlation with improved program delivery. It would be great if grantmaker boards could hear directly from nonprofit boards about the value or ROI of grant investments in governance.
Good governance is a process, and it's never-ending, but I don't think a lot of grantmakers invest in governance at a level that is needed right now. Remember the ratios I mentioned earlier? Grantmakers need to think about these ratios and what they mean to the strength of the nonprofit sector. Then, when we see nonprofits struggling, we need to ask what it is we can do differently, and investing in governance is an important answer.
AW: Shifting gears, you know that BoardSource recently launched an initiative with GuideStar that allows organizations to share information about their governance practices as a part of their online GuideStar profile. Do you as a grantmaker think it is important for nonprofits to send this very public signal that they are committed to strong and effective board leadership?
I think it's a huge step forward. I love that this partnership takes transparency beyond just the financial numbers and looks at leadership practices that can serve as indicators for nonprofit financial performance. An organization's governance practices tell you a lot about its health and vitality. This new partnership is a game-changer! The increased transparency in governance will catalyze a movement for grantmakers, nonprofits, and volunteer leaders to think differently about their approach and establish new benchmarks for success.
At the Annenberg Foundation, we start our grant application with questions about the organization's leaders. We want to hear the organization's perspectives on why these individuals have the talent, vision, and skills to fulfill the organization's mission. The second stage of the application process delves even more deeply into governance best practices. Are there term limits? Are there attendance policies? How do you orient new board members? How is the performance of the executive director evaluated? Is there a succession plan in place for the CEO as well as the board chair? How a nonprofit answers these questions sends signals to donors about the organization's sophistication and understanding of the direct correlation between governance practices and organizational effectiveness.
AW: We are hopeful that the questions on GuideStar will help reinforce the importance of core governance practices and inspire positive changes if those practices aren't yet in place. What are your thoughts on the likelihood of that, given your experiences with organizations that are applying for grants from the Annenberg Foundation?
Initially, it will be a mixed bag of results — similar to a bell curve. At one end of the bell curve, there will be early adopters of improving governance and aligning their approach with best practices. At the other end of the curve, there will be some laggards who just won't embrace change. The majority of nonprofit organizations will fall somewhere in the middle. As grantmakers, we will become better at recognizing where an organization is on this spectrum due to the availability of the data.
My recommendation for organizations that apply for a foundation grant is to be honest and open about why they may not have adopted certain governance best practices. When nonprofit board and staff leaders try to provide a rationale for their lack of action, it does a disservice to them. I'd rather hear them say, 'Well, we never really thought about term limits because we didn't understand their value to an organization, but it's something we're interested in considering' rather than make up reasons why they don't need them. Trying to rationalize away inaction instead of looking in the mirror and saying 'We can do better' tells us that they may not be ready for change.