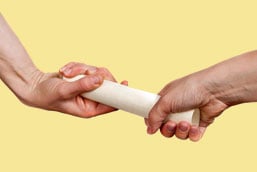 By Carrie Minnich, co-chair, Get On Board
How do you attract the next generation to your board and make sure they have the skills to be the future leaders of your organization?
Two Northeast Indiana organizations came together in 2011 to address this issue by creating Get On Board (GOB), a program of the Paul Clarke Nonprofit Resource Center at the Allen County Public Library in Fort Wayne, Indiana, made possible by the Foellinger Foundation. GOB's goal is to train, connect, and support emerging leaders and the nonprofit organizations they serve. Through various programs and events, emerging leaders learn what it means to serve as a board member of a nonprofit, and nonprofit organizations learn how to create a welcoming environment for new board members.
In our main program, Board Bootcamp, emerging leaders gain an understanding of the nonprofit sector, their basic responsibilities as a board member, and how to find an organization that fits them. A significant portion of the course is understanding the ten basic responsibilities of nonprofit boards, as presented in BoardSource's book by that title. We also have participants who decide after going through Bootcamp that board service is not for them at this point in their life, and that's okay. Board service is not for everyone.
After completing Bootcamp, emerging leaders have the opportunity to attend GOB's Get Connected: Nonprofit Speed Dating event, which brings together emerging leaders and nonprofit organizations looking for board/committee members. Emerging leaders have the opportunity to "date" 20-30 nonprofit organizations in one evening. Our main focus is building relationships. Too often nonprofit boards want a young person to fill a box on their board composition matrix. We view making a connection with a nonprofit similar to the dating/marriage process. Both sides (the emerging leader and nonprofit organization) need to date first to get to know each other. It needs to be a good fit for both sides; otherwise the "marriage" will not work.
We also encourage emerging leaders to volunteer with an organization or join a committee before becoming a board member. At the same time, nonprofit organizations learn what skills and interests emerging leaders have to bring to their board other than just checking a box with a "young" person.
For nonprofit organizations, we offer SpringBoard programs to help recruit, retain, and engage a new generation of board members through the use of the board building cycle, as outlined in BoardSource's popular publication. Nonprofits learn about the life cycle of a nonprofit, founder's syndrome, board recruitment, and engagement practices.
Accomplished area board members who have been honored for board service are also stepping up to share their experiences with emerging leaders. Through intimate lunches, emerging leaders have the opportunity to discuss leadership concerns with experienced board members who are interested in passing the torch to the next generation.
Over the past three years, we have had numerous success stories. More than 160 emerging leaders and 125 nonprofits have benefited from GOB's programs. We have also noticed a shift in the community from nonprofit organizations simply asking for the name of a young person to "fill a seat" to "When is your next event that I can participate in?" Nonprofits have come to understand the value of emerging leaders on their boards and that not all are created equal. We have also had emerging leaders go through Board Bootcamp and subsequently Get Connected where they have made a match with a nonprofit. They have accepted a board position and returned to Get Connected: Nonprofit Speed Dating on the other side of the table, as a nonprofit representative looking for new board members.
Want to hear more? Let Donald tell you his story.
And attend my BLF session to discover how you can design support for emerging board leaders in your community.
Carrie Minnich co-chairs the Get on Board Committee with Lettie Haver.