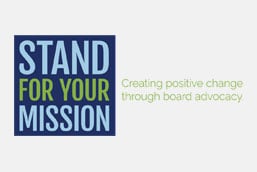 By Renee Vandlik, president, Advocacy Difference LLC
This post is one in a series written by nonprofit leaders who will be presenting sessions at the BoardSource Leadership Forum (BLF) taking place on October 9 & 10 in Washington, DC. We hope you'll be joining us.
Most of us are drawn to the work of nonprofits from the compassion in our hearts, whether it is related to families, children, the arts, nature, parks, or many other causes. Compassion is the raw material on which the nonprofit sector is built, and it resides within all those who support it — staff, board members, volunteers, and constituents. It is because of our compassion that we must become advocates!
Buried within the word "compassion" is the word "passion," and this is what fuels advocacy — passion for our missions! Advocacy unites the passion we all have toward one common end — accelerating our mission delivery. Advocacy adds credibility and strength to the stories and experiences of the individuals we serve or engage. Advocacy creates broader community awareness of the social issues and opportunities important to our missions. And, advocacy tactics build coalitions and educate our allies and opponents.
Many of us think advocacy is just another word for lobbying, which makes us uncomfortable. While it is true that advocacy does include lobbying, not all advocacy is lobbying. Many advocacy activities are not limited by federal guidelines, nor are classified as lobbying-related activities.
But, for those advocacy tactics that do include direct communication with state or local lawmakers or administrative officials, rather generous federal limitations do exist to ensure the voices of those most passionate can be heard. For nonprofits that file the 501(h) election, limitations are easily measurable and managed. For example, for a nonprofit with an annual operating budget of $250,000, IRS guidelines permit up to $50,000 in direct lobbying expenses, and up to $12,500 in grassroots lobbying expenses. And, for a nonprofit with an annual operating budget of $750,000, IRS guidelines permit up to $137,500 in direct lobbying expenses, and $34,375 in grassroots lobbying expenses.
Advocacy that includes lobbying can be vital to our nonprofit's mission. It can create reform, fund a public policy, or even shut our nonprofit's doors — which is a good thing! If we work and volunteer for the right reasons, we should all strive each and every day to close our doors for good! Then, we will have so successfully accelerated our mission delivery that we've fulfilled it!
Advocacy unites the voices of those most passionate to deliver one clear message for systematic change. Imagine a world that is a vision of your mission realized. Because of advocacy, perhaps we will someday
discover the cause, halt the progression, and cure multiple sclerosis
achieve 100 percent high school graduation rates
eliminate domestic violence
achieve parity in the workforce among men and women workers
While these outcomes may seem too idealistic to achieve, aren't these examples of the realities and outcomes we seek?
What is your dream? What is your mission? As leaders in the nonprofit sector, we must consider how best and fastest to achieve our desired ends. Doesn't our compassion demand that we be passionate advocates?
Renee Vandlik is accredited in public relations. She is presenting a BLF session titled "Meet Your Mission with Advocacy."