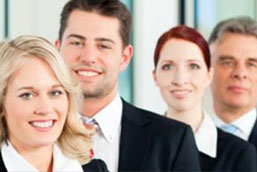 By Ebonie Johnson Cooper, chief millennial officer, Friends of Ebonie, LLC
This post is another in our series written by nonprofit leaders presenting sessions at the 2014 BoardSource Leadership Forum (BLF) taking place on October 9 & 10 in Washington, DC. We encourage you to attend.
Does your board look like the photo on the left? Many do, even though the greatest buzzword in 2014 is "diversity."
Like the word "millennials," everyone wants a piece of "diversity" but very few have any idea of what to do with it. Companies boast being committed to diversity and inclusion on their website, and they add the EEOC clause to employee applications to cover their bases, I suppose. Companies like Google release that two percent of its employees are black as a first step to creating change. For executives like Mellody Hobson, one of two black women chairing a publicly traded company, the problem doesn't just start in the cubicles, it starts in the boardroom. After sharing that she and Harold Ford, a former member of the Tennessee House of Representative, were mistaken for kitchen help at their own event, she broke down just how staggering things are in corporate America. "Even though white men make up just 30 percent of the U.S. population, they make up 70 percent of the corporate board seats," said Hobson. In my own internet sweep, I found out on Associations Now that 93 percent of white men chair these boards and oh yeah, 87 percent of all corporate boards are all white. And what about public sector organizations? Not much better. "About 20 years ago [nonprofit boards], were 86 percent Caucasian, and in our 2012 Nonprofit Governance Index, that number dropped to about 82 percent," Vernetta Walker, BoardSource's chief governance officer shared on Associations Now. However, 30 percent of the 1,300 CEOs surveyed in 2012 by BoardSource said their boards are 100 percent white.
A few months ago, I had four conversations with various professionals in the philanthropic sector, two white men and two black women. All of those discussions touched on the topic of diversity — or lack thereof within the sector. It goes without saying that because I am a black woman and the nature of my work is with black millennials and giving, the comfort to address this topic probably seemed apparent. But what wasn't so apparent to me is the lack of open-mindedness that exists within philanthropy and particularly nonprofit board governance. In a sector that prides itself on helping the disadvantaged, many of whom are black and brown, it amazes me that the black and brown are rarely at the table helping to make decisions about their own communities. In one of my meetings, it was shared that management felt that finding black professionals to serve on the foundation's board seemed "out of reach." In another meeting, the resolution to creating diversity during a company-wide panel was to add a white woman.
Le sigh.
What can you do to help your organization truly be committed to diversity? You can start by learning how to engage with black and brown professionals who desire to serve your organizations.
My goal is to help nonprofits and foundations know that board diversity IS attainable. I know black people give back — and not just in church. I know black people serve as leaders — and their names aren't just Jesse and Rev. Al. And hey, I even know that using leadership skills is the number one way African American millennials want to give their time. And yes, I know where to find these black people and how to engage with them. Vernetta Walker says it best with this question, "If you're not ensuring that your leadership is as diverse and inclusive as those that you're serving, then you have to ask, 'Are you missing an opportunity? Are you truly representing those whom you say you are?'"
Diversity isn't just a buzzword; it's the real world. To be part of the change we wish to see, we ALL need to be at the table. As Maya Angelou so eloquently stated, "We all should know that diversity makes for a rich tapestry, and we must understand that all the threads of the tapestry are equal in value no matter what their color."
To learn more about increasing racial and generational diversity on your board, I encourage you to attend my BLF session titled "The Young Black & Giving Back: How to Engage African-American Millennials in Board Leadership."
Ebonie is the chief millennial officer for Friends of Ebonie, LLC, a consulting and coaching boutique specializing in diversity education, training, and programming for and about millennials and philanthropy. You can engage with her on social media at @EJCThatsMe and with the boutique at @FriendsofEbonie.
A version of this post originally appeared on Friends of Ebonie.com on June 3, 2014.