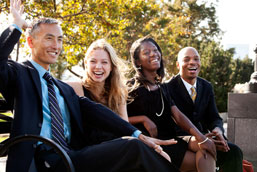 By Peter Zehren, president & CEO, Zehren Consulting
This post is one in a series written by board leaders who will be presenting sessions at the 2014 BoardSource Leadership Forum on October 9 & 10 in Washington, D.C. We hope you will be joining us.
Many boards never understand and utilize the potential each member has to invest in the organization. Having committed to a board, new members are often "on-boarded" out of any fresh, innovative, or challenging ideas they might have. Instead of grooming members to fill the usual skillset, I work to build stronger boards through understanding the value each member brings to the table.
As board members, we can work on building strength through a diversity of new members and a balance of ideas. I'm talking about bankers, artists, architects, techies, and venture capitalists just to mention a few. If we build our board from individuals who have different lenses on the world, who bring thought diversity, we will be able to approach our challenges from new perspectives.
I often remind organizations that board members made a commitment to the organization. Strength comes from honoring those commitments and listening for the interest and value each member has brought to the team. By listening to new members instead of telling them how we operate, I have found we are able to open our board up for change, to see the potential as well as new directions.
The Technique
I apply community-building techniques that re-examine the views and skills each member brings to the table. The method includes asking clarifying questions, active listening, and building understanding before approaching the challenges we face as board members. And, the technique has brought real impact. Through using it, one organization increased donations in one year by 400 percent. It all hinges on learning about each other, respecting our differing methods, and being open to new possibilities. Balancing the thought leaders on our board and allowing them to take ownership for their commitment to the organization builds real strength.
In the BLF session I will be leading on Building a Stronger Board, the participants will work in groups to explore this method. By asking clarifying questions and through active listening, the exercise helps uncover the value each member brings to the team. Commitment, diversity, perspective, and skills are explored in a more personal way that allows each member to get to know the other.
Part of strength also comes from solidifying commitment. Each board member may be able to contribute a range of skills. Each also has a number of commitments they balance. Understanding this ebb and flow can help increase the value your board members can bring to the organization. I have found it also helps in determining when a member should transition off. This type of personal examination can help members understand on their own when it's time to move on.
How the board views and tells your organization's story can also bring strength. What is it the board doesn't know about me as a member? What value could I offer that has not been tapped into? The value and perspective each member has can enrich the way the organization's message is relayed. As ambassadors for the organization, it's important that we understand the organization's story, but it's equally important that as board member, I can own our part of it. Understanding how each member views the organization's work will help us shape a stronger message.
The Method
The method I present is more about looking at board process and structure, not about solving problems like scarcity, need for funds, better leadership and how others should change. It focuses on replacing advice with curiosity and exploring an issue from all sides. It is in this search for deeper understanding that we are able to lift the cover on the root of our challenges. To learn what core issues are and how people outside the organization may see them. It leads to building a stronger board.
Peter Zehren has served on and led nonprofit boards throughout his career, and has conducted retreats for as many as seven boards at a time on fundraising and productivity in New York, NY.