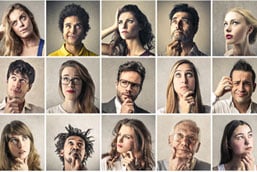 By Amish Mehta, CPA, partner and director of not-for-profit services group, Friedman LLP
This post is one in a series written by leaders who are participating in the 2014 BoardSource Leadership Forum taking place in Washington, D.C., on October 9 & 10. We hope you can join us.
The Center Against Domestic Violence has experienced some governance challenges, which its board chair, John L. Miscione, and its chief executive officer, Judith Kahan, recently discussed with Amish Mehta. He shares some of the highlights here.
Amish: Let's step back in terms of where you've been, from a board perspective. What have been the challenges, and what have been your needs to enhance the board?
John: Historically, the organization has had a board that was more community based, which aligned with its community-based roots. A good deal of the original board members came out of the community in which we started. Now, the world in which we operate has become more challenging, and in order for the organization to grow, it requires broader skill sets among its board members. We've had two challenges: first is re-thinking about what a Center board member looks like, and the second is to find them.
Judy: Historically, due to its nature, domestic abuse has been a topic that has been kept hidden and secret. Because of that, fundraising and board development came very late, and it has taken us many years to establish a board with senior management experience.
Amish: What is your ideal board member candidate?
John: The person has to be knowledgeable about the world of nonprofits and sensitive towards the mission of the organization. At the same time, they have to have a sense of business sophistication: the board needs executive ability as it relates to adaptation, whether it is financial planning or changing the way the organization is managed. So these two characteristics, on top of the ability to fundraise, are key.
We are aware that given the challenging environment, we have to balance the need to have a robust board with the need to have the right people. It's a more demanding world for everyone. The board and organization is a work in progress: we have a firm foundation, good financials, and a great reputation, and we're looking for board members with the right skill set to keep the organization moving forward.
Amish: What types of questions are potential board members asking you during the interview process?
John: The biggest obstacle is that people want to make sure they have sufficient time to dedicate to the organization. They want to know the time commitment more than anything else.
Amish: So how do you assure potential board members that they can handle the obligations?
John: Given the nature of our work and that our funding comes from government sources, I can say that relative to other organizations that are donor based, our work load and requirements (six 2-hour board meetings with an additional six hours of time for 10 months of the year) are reasonable.
Amish: What kind of policies and procedures have you implemented to ensure that there is a commitment to good governance?
Judy: The organization has been able to grow from $1 million to $9 million [in annual expenditures], though it has taken 20 years. We're one of the only domestic violence organizations with a quality assurance component: every record is checked, and we get reports from state and city auditors.
John: The organization has a committee structure, and nominating and finance are two of the key committees. Our finance committee has always been very organized, and there's always been a disciplined budgeting process overseen by Judy. There's also always an audited financial statement provided by an auditor of quality. We had a conflict-of-interest review from a major law firm, and have a conflict-of-interest policy in place. Every year, board members must sign various documents on conflicts, whistleblower, etc.
Judy: We also give each board member a list of responsibilities and a manual that contains minutes from last year, the budget, bylaws, and information about the agency. When at least two board members join, we do a board training. Ideally, when a board member's term is up, we would like for them to replace themselves and find suitable candidates for us.
John: And within the last two years, we had two attorneys join the board who reviewed our by-laws for compliance. Today, the board is considering bringing on a consultant to improve our process and facilitate how we operate.
Amish: How have you managed to make your impact known to the outside world?
John: This is challenging for us, given that many things we do are private in nature. We're considering making videos with actors in order to tell the stories of the people we've helped. If we want to expand, we have to be more knowledgeable and more willing to tell our story in ways that protect the people who use our services, but at the same time allows the wonderful record of this organization to shine so that people can understand what has been done and how we've changed lives since 1976.
Amish Mehta can be reached at AMehta@FriedmanLLP.com. He will be leading a round-table discussion at the Leadership Forum.