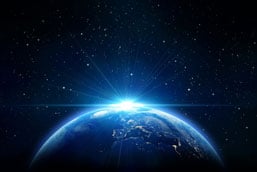 By Patrick Davis, independent consultant
This post is one in a series written by nonprofit leaders who are presenting sessions at the 2014 BoardSource Leadership Forum, taking place on October 9 & 10 in Washington, DC. We hope you will be joining us.
These introductory words to the classic Star Trek of the 1960s describe the five-year mission of the fictional starship Enterprise. It also summarizes the very real challenges faced by nonprofit executives and their boards going into the 21st century as they strengthen a partnership similar to the one formed between Captain Kirk and Commander Spock. Leadership in the 21st century requires a balance of both head and heart. During a recent workshop I presented on dialogue skills that was hosted by the Nonprofit Association of the Midlands (NAM), participants asked candid questions about governing their organizations into the future:
"How do we identify priorities and manage growth?"
"How do we maintain quality and satisfaction as we grow?"
"How do we bring together diverse resources and perspectives into a shared paradigm?"
One board chair of an organization going through rapid growth added "…and how to ensure we remember to bring our soul along with us?"
These questions get to the heart of a leader's challenge to meet more needs with shifting resources. Old habits and ways simply don't work in all situations anymore. We are at a transition point in our leadership practice, and the competency of holding bold dialogue around complex questions is key. Board chairs, CEOs, and leaders of both small and large nonprofits gathered in this workshop to hold a "dialogue on dialogue" for managing growth and change.
Deeper than these organizational challenges we also face personal questions such as
"How to balance my personal health and well-being with the pressing need to do more work?"
"Where is the best role for me in the next season of life?"
My own candid version of these personal matters is to ask myself, "Who am I to help others if my own life is a mess?"
As a consultant I ask these two questions about dialogue with clients:
How are your leaders currently hosting dialogue across your organization? Most leaders are vague or unsure of this answer. If they are confident about their own practice then they are not sure how the leaders who are accountable to them are doing.
Is dialogue as disciplined as your annual budget process? Most organizations, if honest, say "no" or are equally vague or unsure about how to do this.
Many leaders may not invest in this approach for themselves. However, if we begin offering these opportunities to benefit others who are managing the stress of acute change, then we may reap rewards as well. As super caregivers, our shadow may keep us from focusing on our own needs when sponsoring initiatives.
Whether beginning a career in nonprofit leadership or living into the second half of one, we all need to become more intentional at holding bold dialogue around these challenges that have no easy answers. The workshop reviews the four essential skills demonstrated in effective dialogue. It also reminds us that we are not alone with our deepest questions. The discipline of dialogue offers pragmatic support among colleagues, as we become a mutual village of support to raise our leadership competency to the next level of personal and professional growth.
Due to the urging of Bernie Beach, an executive director of a program in Detroit, Michigan, who used these skills with her board, and the support of Anne Hindery, CEO of the Nonprofit Association of the Midlands (NAM), this workshop ("To Boldy Go: Dialogue — Bridging the Art of Contemplation and Action in the 21st Century") is now being held on the second day of the Board Source Leadership Forum. I invite you to join me as we review the principles of mindful dialogue, "…to seek out new life and civilizations….to boldly go where no one has gone before."
Patrick Davis, MA is a writer, teacher, and consultant to individuals and organizations facing acute change. Patrick brings 30 years of practical experience in various nonprofit settings and he holds a master's degree in adult education with longstanding teaching associations in community colleges and centers that offer engaging approaches to leadership and professional development.