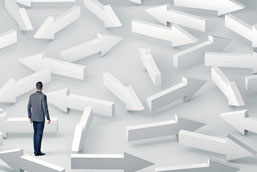 By Glenn Doggett, director of professional standards, CFA Institute
This post is one in a series written by nonprofit leaders who are presenting sessions at the BoardSource Leadership Forum in Washington, DC, on October 9 & 10. We hope you will be joining us.
Professionals working for nonprofit organizations are likely to encounter situations of conflict of interest at some point. From the demands of donors to concerns about potential grant recipients, there are many decisions an organization must make to ensure it remains true to its stated mission. And when you factor in oversight of the long-term investable assets of the organization, some professionals may believe there are just too many potential conflicts to perform the job successfully.
At CFA Institute, we understand that employees at all levels likely will face an ethical dilemma at some point in their careers. However, just because an ethical challenge or conflict of interest arises does not mean the person facing that dilemma is morally deficient. They may simply be in the wrong place at the wrong time.
Laws, regulations, professional standards, and codes of ethics can guide ethical behavior, but individual judgment is a critical ingredient in making principled choices and engaging in appropriate conduct. Establishing a framework for an ethical decision-making thought process prior to taking a particular action is a crucial step in supporting ethical conduct. Utilizing such a framework for ethical decision-making helps professionals effectively examine their conduct in the context of conflicting interests common to their profession and determine the best course of action to fulfill their responsibilities in an ethical manner.
Often decision frameworks are made based on a linear model or checklist tied to legal and regulatory requirements. Such processes often lead to compliant actions, without effectively addressing the conflict. By applying a principled-based framework, an individual would seek to identify the relevant ethical expectations alongside the regulatory requirements. Next, consider the necessary actions before making a final decision for those situations outside of the confines of "right" and "wrong." A principles-based framework allows for the consideration of alternative approaches, especially important to the multitude of potential duties that are owed by a nonprofit professional.
Simply nurturing an inclination to do "what is right" is no match for the multitude of factors that could potentially influence the decisions a professional must make. We must regularly exercise ethical decision-making skills to develop the muscle memory necessary for fundamentally ethical people to make good decisions despite potential conflicts. Just as coaching and practice transform our natural ability to run across a field into the technique and endurance required to run a race, teaching, reinforcing, and practicing ethical decision-making skills prepare us to confront the hard issues effectively.
In our session at the 2014 BoardSource Leadership Forum, "Ethical Board Investment Committee Practices," Jonathan Stokes and I will lead a discussion on how to apply an ethical decision-making framework. We will discuss benchmark levels of ethical and professional conduct for investment committees and external investment managers, and give attendees an opportunity to apply an ethical decision-making framework. Through this practice and peer discussion, you will further your personal ethical decision-making skills.