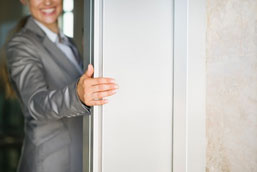 By Sharon Danosky, president and founder, Danosky & Associates and Peter Roche, president and founder, IPR, Inc.

This post is one in a series written by individuals presenting sessions at the 2014 BoardSource Leadership Forum, taking place on October 9 & 10 in Washington, DC. We hope you're planning to join us.
The elevator doors open and you're face to face with a stranger. After introducing yourselves, the stranger asks, "So, what do you do?" Panic sets in as this is your only opportunity to inform this stranger — this potential donor — about the organization you feel passionately about. Knowing that you only have a few minutes to answer the question, you begin to fumble through your "elevator speech." As you attempt to describe the good work your organization does and why it's worthy of even a stranger's support, the elevator gets closer and closer to the destination floor. Time is running out. As the elevator descends, so does the interest of the stranger. The doors open. A potential donor walks away, unmoved by your elevator speech.
This scenario of the elevator-speech-gone-wrong happens more often than one might think. How can you, a board member, concisely explain the great work your organization does in the amount of time it takes an elevator to make its way up or down a few floors? The answer is, you can't! But what you can do is prepare yourself for handling this situation with ease.
As a board member, it is extremely crucial to be prepared to answer the tough or even easy questions about your organization, whether you're at the grocery store, in a meeting with the media, or yes, even riding in an elevator. Potential donors, as well as the community-at-large, who inquire about your organization want to be floored by your delivery. Will you be able to take that opportunity to position the organization in the best possible light?
Personally, I have grown to dislike the whole premise of the elevator speech. I find that when board members ask for the organization's elevator speech what they really want is a way to better understand and be able to communicate the salient and compelling facts about the nonprofit they are serving. And, if they have to ask what to say, then, clearly, we need to do a better job of communicating our focus.
A better approach to a canned, prepared speech is to develop key messages that speak to your board members' personal interests in the organization and its mission. The salient and compelling facts about your organization are now embedded into their souls. Their conversations with strangers become easy, relevant, and even enjoyable.
My colleague, Peter Roche, and I believe this so strongly that we have developed a methodology that helps both management and volunteers distill their messages from a lay person's perspective and learn how to bring their personal understanding of the organization to the forefront. Board members become comfortable, donors hear interesting information, and perspectives and conversations emerge that are interesting and meaningful.
To learn more about our methodology, join us at "Throw Out the Elevator Speech & Start a Conversation" at the BoardSource Leadership Forum on Thursday, October 9, 2014 at 9:30am. Learn how to create this magic in your own organization. Together, we will delve into the nuts and bolts of preparing your board members to talk to the media on key issues, advocate in a meaningful way to policymakers, or discuss a campaign with a would-be donor.