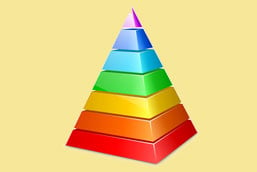 By Chris Grundner, president and CEO, Delaware Alliance for Nonprofit Advancement
Are you familiar with Maslow's Hierarchy of Needs? Abraham Maslow, a psychologist, introduced the concept in a 1943 paper, stating that people are motivated to achieve certain needs. When one need is fulfilled, a person seeks to fulfill the next one, and so on. The needs are often depicted as levels within a pyramid, with the largest, most fundamental levels of need at the bottom — things like food, water, shelter, sleep. Meanwhile, at the top of the pyramid, is self-actualization — most often explained as understanding what your full potential is and then actually striving to realize it. To borrow a phrase from the U.S. Army, self-actualization is "being all you can be," which should be our ultimate goal.
In a talk I gave recently at a TedxWilmington event, I shared what I consider to be the key ingredients to building an excellent board, and to emphasize my point, I contrasted these building blocks to the steps in Maslow's Hierarchy of Needs. In building my parallel pyramid, I set forth that passion for an organization's mission is the equivalent of the bottom rung on Maslow's pyramid. Combine passion with regular attendance at board meetings and organizational events and making meaningful financial contributions to the organization on a regular basis, and you've got a base from which solid governance can be built. But they alone are clearly not enough to help the board be all it can be…or even to facilitate long-term organizational sustainability, for that matter.
So what comes next in my pyramid? I invite you to view the video of my talk to find out.