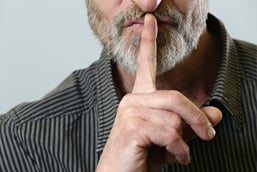 By Gary Patterson, principal, Fiscal Doctor
When you were a teenager, do you remember one of your parents saying "Speak to your father [or mother] about that" when you asked an uncomfortable question? Fast forward to today. Based on conversations I've had with hundreds of nonprofit board members, many feel they get a similar response in the boardroom when they ask questions without easy answers.
The fact is, most boards have issues they would prefer to glaze over or avoid. In my experience helping both for-profit and non-profit companies with fiscal issues, I've never seen one that has all the money, key people, time, or comfort level to pursue all the opportunities and address all the problems that lay before them. That doesn't mean they shouldn't at least talk about them.
At last year's BoardSource Leadership Forum, I asked approximately 50 board leaders to identify the three top issues they felt their boards were avoiding. This year, I'll be presenting the full list in the session titled "Boardroom Black Holes and Taboos." In the meantime, I have three key suggestions that can help your board tackle sometimes uncomfortable fiscal issues and your organization attain success — not perfection but success.
Get yourself into business of harnessing opportunities and solving problems through better CAPEX (capital expenditures) logic, which allows you to determine which issues to address with limited resources of people, money, and time. Some of you will be surprised to discover one or more historical activities (possibly galas) that require large amounts of resources actually no longer need to be done.
Prepare for the blurring between nonprofit and for-profit organizations. Remember the pain and anguish from those last Form 990 revisions? Attorneys and CPAs are drooling over the next round of Form 990 safeguards. As the disclosure requirements move closer to for-profit proxy levels, what additional levels of corporate governance, enterprise risk management, and cash management will you need?
Set up a planned giving program if you haven't already done so. Setting politeness aside, your donor base is very likely getting old. If you have looked at the average age of the donors consistently providing most of your funding, you owe it to those donors to help them maintain the mission they care about — and without new passionate donors, the legacy of those who supported your mission in the past may not be able to go forward.
My impression is that nonprofit board members seem to be living in the land of denial more so than their for-profit counterparts. Acknowledging an issue in time to actually solve it is much more effective than ignoring an issue until it becomes a looming catastrophe. Think of an 800-pound gorilla. This monster started as a 100-pound gorilla. Better to tackle it than a beast that nobody can control.
This post is the first in a series written by nonprofit leaders who are presenting sessions at the 2015 BoardSource Leadership Forum, being held in New Orleans on November 9 and 10. Please consider joining us for two days of learning. You can learn more about the conference here.