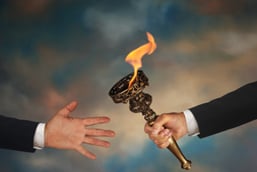 By Kay Irby, director of organizational development, Louisiana Association of Nonprofit Organizations
This post is one in a series written by nonprofit leaders who are presenting sessions at the 2015 BoardSource Leadership Forum, taking place on November 9 & 10 in New Orleans. Please consider joining us for this event.
"Help! Our board is lacking in diversity regarding race, skillset, and most of all, age!"
Ten years ago, the Community Foundation of North Louisiana and the Louisiana Association of Nonprofit Organizations (LANO) was showered with pleas of this kind from nonprofit leaders from throughout the northwest part of our state. Our response? To help change the situation through a Community Leaders program that has, over the past decade, trained hundreds of young professionals in nonprofit board service and placed these young leaders on boards throughout northwest Louisiana.
We began our efforts by asking our nonprofits why they don't have younger leaders at the board table. The answers ranged from "We know we need them, but they don't have wealth and access to wealth" and "They are at an age and stage in life where they don't have time" to "We don't know any who would be interested."
We then asked young leaders why they don't serve on local nonprofit boards. Their answers ranged from "I don't have the confidence to speak out at meetings" and "I don't feel educated about board roles and responsibilities" to "I want to serve where I can make a difference, not just enable an organization to check off a diversity box."
It was clear that we had work to do on both sides of the issue, and that's what the Community Leaders program does. Through collaborative partnerships committed to change and an innovative model for teaching board roles and responsibilities, we have made headway in changing the composition of our aging boards. Northwest Louisiana's nonprofits now understand not only why they need to pass the reins of leadership onto the next generation, but, more importantly, are confident that our community's young leaders are prepared to serve.
Program graduates currently serve on 45 boards in our area, and several have been selected to chair the board. Impressively, 70% of participants continue to make financial contributions to nonprofit organizations three years after completing their training, and 81% continue to serve on a nonprofit board during the same period.
Who holds the governance reins in your community? Paula Hickman, executive director of The Community Foundation of North Louisiana, and I will share our insights in equipping a new generation of leaders for the future of nonprofit board service at the 2015 BoardSource Leadership Forum. We hope to see you there.