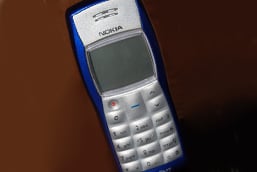 By David Greco, managing partner, Social Sector Partners, and Sylia Obagi, executive director, Roy and Patricia Disney Family Foundation
This post is one in a series written by leaders who are presenting sessions at the 2015 BoardSource Leadership Forum taking place on November 9 & 10 in New Orleans. We invite you to join us.
Are you still living in 2005?
In 2005, the number one selling phone in the world was the Nokia 1100. It had a monochrome display with support for four lines of text and a resolution of 96 x 65 pixels. It had no browser, no camera, no mobile data; basically, it was just a phone for calling and texting. It would be two more years before the very first iPhone was released. There was no Twitter and Facebook was still limited to just college campuses. Was that really only 10 years ago? Seems like a very different world indeed.
In the 21st century, not only have there have been massive changes in the tech world, one can argue there have been many more in the social sector. We are in the midst of the industrial revolution of the nonprofit sector. There are new forces at play transforming the sector and the way in which nonprofits must operate within it to survive. If nonprofits don't act now, they risk being as outdated and irrelevant as the Nokia 1100. In the past 10 years, we have seen
a wholesale shift in how government is funding and approaching social issues
a new wave of philanthropists who don't think about making donations to charity but rather look for investments in social innovation
a blending of the nonprofit and for-profit capital markets
the rise of hybrid social enterprises, B Corps, and triple bottom line business
the advent of big data and a push for social outcomes measurement
the flood of big money that is threatening to drown out the voices of those who lack the resources to compete
In 2005, there were no such things as B Corps, there was no 'impact investing' as a recognized approach to funding, there was no 'Social Capital Markets', and social impact bonds were still five years away. And there was no "Citizens United" that opened the flood gates of "big money" into political campaigns. Ten years ago, the social sector was a vastly different place.
Yet for too many organizations and their boards, it is still 2005, with business strategies resembling the old Nokia phones — useful in their time but now passed over by more powerful and innovative thinking.
When we hear nonprofit leaders touting that they spend .93 cents out of every dollar on programs, we have to ask, "How are they staying competitive in today's rapidly changing world?" In our new normal, nonprofits must have even greater professional talent, adopt cutting-edge technology, and be even more flexible, responsive, and innovative than ever before. And you don't get there by starving your organization.
Board leaders need to understand what it really costs to deliver great outcomes over the long term. In today's world, success and sustainability means having a business model that generates regular, reliable revenue that covers the full-cost of doing business as well as the necessary investment capital and reserves.
To develop a sustainable nonprofit that is most effective, boards need to answer a number of critical questions:
What is the fully loaded cost of doing business?
How much risk can the organization take?
What are the organization's capital and balance sheet needs including working capital, investment capital, and reserves?
How can we communicate our financial story to donors, grantmakers, and other stakeholders?
Forget fundraising ratios and overhead rates. We find the debate over 'overhead' a bit like arguing the virtues of Beta vs VHS in the age of online streaming videos. It is not about good or bad, it just about adapting to today's rapidly changing world. Focusing on overhead means you are focusing on an old paradigm of scarcity and bare bones operations. Whereas today's world requires a focus on capital, resources, innovation, and quality to ensure an organization stays competitive in today's outcomes-based world.
Organizations must move away from the scarcity paradigm and create a leadership team and board structure that focuses on outcomes, what it costs to achieve those outcomes, and how they will develop a funding model to secure the necessary resources. By focusing on the generative questions of building a sustainable organization, board members can successfully lead their organizations into the rapidly changing 21st century.