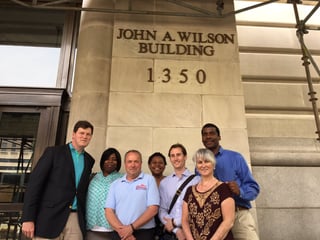 I live in a community where we know each other by name, use Twitter to help each other's locate lost pets, and shovel each other's sidewalks after storms. I feel blessed to have such a close-knit environment while still living in a large, often impersonal city like DC. I am passionate about my community, so I serve on a nonprofit board.
My organization is a small, young nonprofit devoted to supporting small business and community development for the major street that runs through my neighborhood. When our board sat down to discuss upcoming priorities for the neighborhood, we knew that expanded mass transit was at the top of our list. Lots of DC residents don't, or prefer not to, drive. Many of my neighborhood's businesses are at the top of a steep hill, and people from other communities on the same street have been telling us that they don't want to bike or walk up the hill, and there is no bus that goes from their neighborhoods to ours. When we discovered that our transit agency had already done a feasibility study on a bus line that would address the issue, we knew that it was time to visit city councilmembers. We needed 1.5 million dollars to fund the bus line for the first year. Many of us had never asked anyone for even half that amount of money. Still, we knew that this bus had the potential to unite our section of the city and make a substantial difference in the life of our small businesses.
It was our first advocacy project as a board, and we were understandably nervous. Aside from our executive director, no one on the board had much experience with advocacy, and we weren't sure how things were going to go. Here are the nine key takeaways from our process. We are planning to apply them to our next effort, and I'm sure they will be of help to you.
If you need money for a program, visit your representatives before or during budgeting. Elected representatives love to hear your ideas, but the annual budget cycle really governs local priorities. Before this visit, we'd tried to tackle an issue related to inadequate street lighting, only to face difficulties because there were no funds allocated to address this issue. It's best to agree on a set of priorities before budgeting begins so your representatives have time to set aside funds.
Find a reason to say thank you and open with that. Much of our funding comes from city programs. We introduced ourselves with a thank you for the continued funding, which helped set the tone for a pleasant conversation.
Know the costs (and don't blink). Every councilmember visit began the same way: "That sounds like a great idea. How much will it cost?" Staffers ask this because they know that their bosses will ask this. I was pretty nervous the first time I answered this question, but the overwhelming response was, "That's not bad, let's see what we can do."
Bring handouts, but keep them brief. These offices get a lot of requests, and streamlined, easy-to-read talking points have a big impact. We heard some of our points repeated during the proceedings, which is a sign that we got through. Be sure to have a handout that includes contact information, talking points, and a relevant image. It should only be one page long (or less).
You can just stop by, because your representatives want to hear from you. We visited eight councilmembers in one day, and nearly every office was happy to have us (more on that later). In some instances, we spoke directly to the councilmember, but when he or she was unavailable, we were greeted by a staffer who showed warmth and even enthusiasm for our efforts. When no staffer was available, we were given specific times to return by the front office staff, and we never had to go back to an office more than twice. Because we showed up unannounced, I expected to be treated like a problem, but I walked out feeling just a little bit prouder of my government.
Bring your friends, but not too many. We were very intentional in recruiting a group of board members that represented a cross-section of our community. Business owners, residents, and other community stakeholders don't always share the same priorities, but our unified front gave us power. While most offices greeted us warmly, the fact that there were seven of us led to a lot of shuffling in small offices. At least one staffer was alarmed by how many of us were in the lobby. Once he realized we weren't there to protest, he gently assured us that calling ahead and setting a meeting would work just as well. In the future, we may split our team up to avoid the impression that we are there to intimidate anyone.
Work with your strengths. After the first few visits, it became clear to us that some in the group were great with talking to staffers, others were better at arranging the handouts, and still others had relationships in the office that they could nurture while we waited. We took turns with some of the tasks, but we fell into a rhythm where we let each group member do what he or she did best, which helped everyone relax.
Current events are your friends. Shortly after our advocacy day, the head of Metro (the DC subway system) announced a massive year-long repair schedule that would shut down subway stations across the area. Our closest station will be closed for three weeks. Suddenly the bus that would be nice to have turned into an example of how the city could help meet the community's mass transit needs. Board members and supporters of our cause started tweeting councilmembers about the need for our bus line to offset the loss of the Metro. Seven people with handouts turned into dozens of people on social media.
Advocacy doesn't end with your visit. Our advocacy day happened a few weeks before our organization's annual meeting. On the day of the meeting, the fate of the bus line was still unknown. As the board chair, I'm tasked with giving a speech about the year's successes and the plans going forward. I devoted a fair amount of my speech to the bus line. And, as luck would have it, I ended up delivering my speech to a crowd that included the mayor, because she decided to attend our event. Meeting attendees were particularly enthusiastic about the bus line, and the mayor ended up referencing it as the kind of important feedback that communities give government.
A few days after the annual meeting we got word that the city would fund the bus line. This success has led board members to strategize about future endeavors, and created energy in the boardroom among new and seasoned board members alike. We can't wait to apply these nine takeaways to our next advocacy project.
Do you have an advocacy success story? Please share your takeaways with us here.