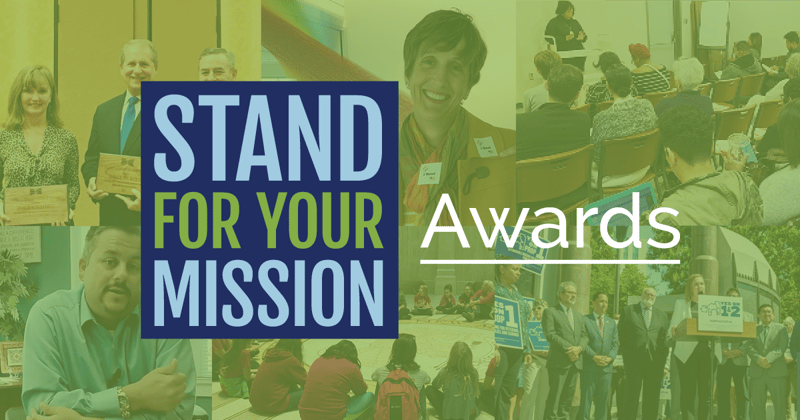 Earlier this year, BoardSource announced that it was accepting submissions for the 2019 Stand for Your Mission Award — a chance for nonprofit boards all over the country to show how they have used advocacy to advance their missions and help their communities. The winner of the award will receive $5,000 in general operating support.
Today, we are proud to announce the 10 finalists for the award here as well as on the Stand for Your Mission website, where you can read short profiles of each finalist.
Congratulations to the following 2019 Stand for Your Mission Award finalists:
360 Youth Services, Naperville, IL
CenterLink, Ft. Lauderdale, FL
Children's Advocacy Centers of Tennessee, Nashville, TN
Girls Inc. of Sante Fe, Sante Fe, NM
Habitat for Humanity California, Santa Ana, CA
Homeless ID Project, Phoenix, AZ
Illinois Valley YMCA, Peru, IL
National Youth Advocate Program, Columbus, OH
Virginia Garcia Memorial Health Center, Hillsboro, OR
YWCA Dayton, Dayton, OH
Commonalities
In addition to naming these finalists, we'd like to share with you a few common threads we noticed among their stories. Hopefully, they can help you in your advocacy efforts.
Think about All Levels of Government
When many people think of advocacy or lobbying, they most often think about the federal government. But the truth is that some big strides can be made by focusing on local and state officials. Of our 10 finalists, seven found their success working at those levels. For example, Illinois Valley YMCA, which operates exclusively in Illinois and was looking to build a new extension to its facility there, had no reason to lobby for rezoning in Washington D.C. It took its case to the city council in Peru, Illinois. State and local officials may be easier to get in touch with, and the decisions they make can be every bit as important for your organization's mission as ones made by the federal government.
Strength in Numbers
Sometimes, the best way to advocate is to make sure you don't go at it alone. The voice of one nonprofit can make a difference, but that voice is magnified when you join with others. Several of our finalists understand this, especially those advocating to the federal government, where it can be harder to be heard. The National Youth Advocate Program (NYAP) is a great example of this idea. In response to the "zero tolerance" policy regarding immigration, the organization's founder flew to the United States-Mexican border and met with seven other organizations to organize their efforts to advocate for their like-minded causes. Visit the Stand for Your Mission website to find coalitions by issue area and region.
There's No Wrong Time to Get Started
Advocacy is about public policies and making sure that they are benefiting the communities you serve. Some finalists' forays into advocacy were triggered by particular events, such as changes in public policy brought about by changes in administration. The 2016 presidential election, for example, brought an especially dramatic shift in the federal government's policy agenda, one that made promises that threatened CenterLink's mission, which is to support the development of strong, sustainable LGBT community centers. In response, the full board concurred that there had never been a more important time to advocate for its mission. Other finalists, including 360 Youth Services and Virginia Garcia Memorial Health Center, have seen the value in educating policymakers about their missions since their founding — in both good times and bad, seizing opportunities for policy improvement when they surface and addressing real threats when they appear. Whatever the impetus, our finalists are proof that advocacy pays off for those who engage in it. There's no wrong time to get started.
Great Advocacy Doesn't Happen by Accident
None of our finalists started out having a well-functioning advocacy machine on their hands. They started small and built from there, first evaluating the environments in which they operate, identifying potential threats to their missions, devising advocacy plans or agendas to address those threats, and then following through on them. It was an intentional effort based on need. Sometimes, it takes even more than that, though; sometimes, you need additional help. Four of our finalists created committees or new professional positions to look out for advocacy opportunities; three hired outside help to teach them how they could more effectively advocate for themselves. Finding the budget for this isn't always easy, but your mission may demand it. In 2018, the Children's Advocacy Centers of Tennessee secured a $450,000 budget amendment providing additional state funding for each of its centers across the state. That was only possible because of the help it got from a professional lobbyist who taught it how to effectively advocate for the organization's mission.
We invite you to learn more about nonprofit board advocacy and each of our ten finalists by visiting Stand for Your Mission.