Which general areas do you think will, or should, concern nonprofit boards the most in 2016? In a "pulse" survey recently conducted by BoardSource and the Nonprofit Quarterly, "General economic uncertainty, increased volatility, and shocks" was identified as the main concern. This issue was one of 12 possible choices. Coming in second, and far behind, was "Board representation (i.e. youth, diversity, and inclusion challenges to board membership)."
The choice of these areas as the top two concerns probably does not surprise most nonprofit leaders, but numbers three and four may. Government, long felt to be a funder and friend of nonprofit activities, is now perceived by some as a foe. The changing relationships and responsibilities between government, the private sector, and nonprofits — especially the abdication of government roles and non-payment of nonprofit contracts — is the third most important concern. The "increasingly competitive environment" is fourth. "Traditional" issues, such as "rapid technological change" and "demographic shifts," are voted only ninth and tenth, respectively, while cybersecurity, which might have been expected to finish higher due to much recent publicity, is last on the list (see chart below).
Coming in fifth and seventh are two issues also of concern to BoardSource: Collaboration and board member advocacy, respectively. Individual comments addressing these concerns included the following:
"Collaborative networking is essential for increased impact. How do we knock down silos and collaborate more effectively?"
"How can be best collaborate with other NFPs [nonprofits] while competing for funding?"
"Collaborating in networks — what kinds of agreements, technology, and cost sharing can be expected and how can you keep network members equitably engaged to reach the common goal(s)?"
"How to impress on the board of directors the importance [of] being an ambassador for your organization at all times — for funds, for friends, for systemic changes around your organization's issues."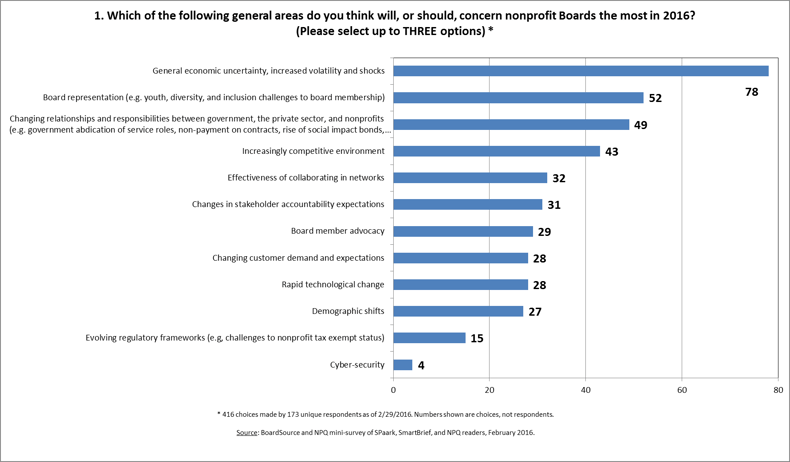 When asked to suggest areas of concern that may have been missing from the original list, respondents came up with several options:
"How can nonprofits learn to read trends that matter to them so that they are on the front edge of change instead of trying to keep up? Or better, how do they become trend-setters?"
"Staying mission-focused and not chasing revenue streams."
"How to sustain support and appeal to new support while still being who you are?"
"How much of the annual operating budget should be contributed/raised by the board?"
"How to adapt mission delivery in an era of rapidly changing expectations from key stakeholders and rapidly evolving technology?"
Other respondents looked beyond contemporary complaints and into the future:
"If there will be a caveat for nonprofits when new salary minimums go into effect?"
"The radical change in fundraising for the millennial generation, which will be encumbered for years with financial instability?"
A "pulse" survey is not designed to be a representative sample survey yielding a comprehensive view. Rather, it is like taking a medical pulse; it gives a rapid measure of health and clues about what is going on. As Anne Wallestad, president and CEO of BoardSource, said: "Mapping and interpreting trends in board leadership is fundamental to understanding how best to support and strengthen the nonprofit sector. This pulse survey reveals both consistent and pervasive challenges that nonprofit leaders face, as well as some interesting new threads. We look forward to exploring both more fully in our next Leading with Intent study."
BoardSource will launch the next Leading with Intent: A National Index of Nonprofit Board Practices survey on May 2. Would you like to participate?