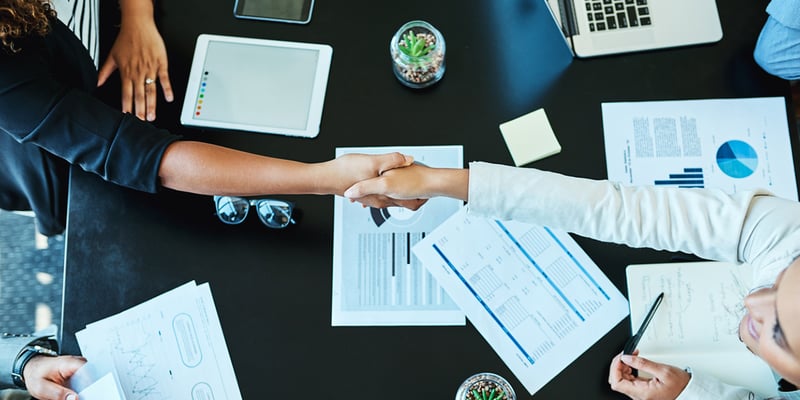 Helping create and sustain healthy donor relationships is one of the most important things your board team can do to support your organization. If you have strong donor relationships, you can better plan your fundraising goals and efforts and count on your donors' continued contribution to your cause.
Here are four things you can do to improve your donor relations.
Maintain a well-informed leadership team
The most valuable thing you can do for your organization is to ensure every individual involved in fundraising — board and staff — is well informed on important donor relationships. To do this, you need frequent, open communication within your leadership team to ensure that no important information gets lost or forgotten.
You may be wondering, what information should we collect and share with the team and how?
The answer can take many different forms, depending on your organization's needs and what you deem important. You may wish to collect and share information regarding:
Potential major gift donors. Keeping everyone informed about prospective major donors is important because of the potential impact the gifts can have on the operations of your organization and because your board leaders in particular may be in the position to help steward major donors.
Potential community partnerships. When engaging with your donors, you may come across excellent opportunities for your organization to partner with other community programs that can benefit the people you serve. You can identify these opportunities by leveraging your donors' community affiliations or assessing the other like-minded programs that your donors support.
Donor analytics. This simply refers to understanding who donates to your organization and when, and then drawing conclusions as to why. It's critical that your board understand your donor network so it can make informed strategic decisions related to resource development.
No matter what data and information you collect, make sure it is efficiently and consistently shared with the board via the board's development committee or through reports to the board.
Create a staff team with dedicated roles
A good, efficient hierarchy with a seamless succession plan is important to have in a nonprofit. If you have a clear chain of command and a distinct set of job roles, your organization will run smoothly and you will be able to engage with donors effectively.
If your budget allows, you should consider having staff leaders in the following positions with well-defined job descriptions:
Director of development
Major gifts officer
sPlanning giving officer
Community outreach coordinator
Event coordinator
Conduct focused prospect research
The goal of your nonprofit's donor engagement strategies should be twofold:
To solidify loyal relationships with existing donors.
To generate new insights for your prospect research.
Prospect research takes into account an existing or potential donor's ability and interest in making a major gift to your organization. This is an essential process for your organization's growth and sustained existence. Make sure your staff is engaged in ongoing prospect research. Start by analyzing your existing donor network and looking for patterns and trends in donor demographics; this will give you your first clue regarding who you should appeal to. Your organization then can take this knowledge of existing donors and identify similar donors who also have a capacity and an affinity to give charitably.
You also should look at wealth indicators such as business affiliations, stock ownership, and real estate investment. These will help you understand how much individuals would be able to give. Without a clear understanding of philanthropic markers, you will not be able to focus your efforts. This is why looking at things such as a donor's giving history, political giving, and their relationship to your cause is important as well.
Together, these clues will help you decide how to focus your fundraising strategy and know whom you should appeal to and how. And a specific and targeted appeal will instill in the donor an understanding that your nonprofit cares about them as an individual, greatly strengthening your donor relations overall as your relationship develops.
Enable board leadership to participate in fundraising
While it may seem fairly intuitive that your board leaders should have a role in fundraising because they are responsible for understanding, helping plan, and approving your organization's fundraising strategy, it can be difficult to know how best to get them directly involved. One fairly simple way — and there are many others — is to engage them in a letter-writing campaign. Ask your board team to write letters to potential or existing donors about why they should donate to your organization. These fundraising letters will allow the passion and interests of those who serve your organization to shine through in unique ways while also providing an increased level of insight into the function and operations of the organization. This will allow the recipients of the letters to better understand the impact that their gift could have.
If you want to learn more about fundraising letters, click here.
Your nonprofit's board leadership team has the potential to be greatly involved in your donor relationships. You should utilize its experience and expertise to improve your donor relationships.