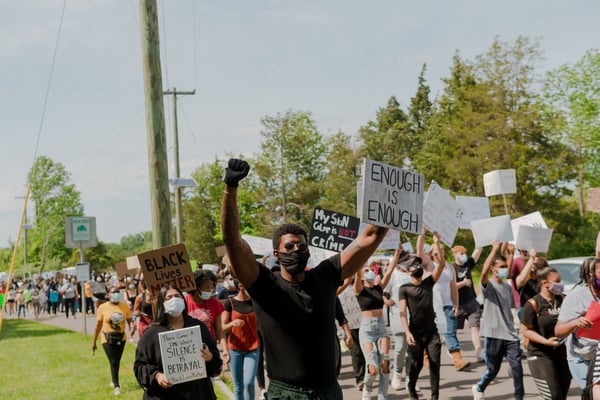 I believe I'll remember the images of last summer's racial justice marches for the rest of my life – largely for a reason that I didn't expect. It wasn't just the number of protests around the country that inspired me, or even the size of the crowds (impressive as they were). It was the rich, diverse tapestry of faces that I saw in those marches that I was especially surprised to see – a tapestry that provided much-needed hope and encouragement to me and many other Black Americans.
The marches helped Black people to see that when it comes to the fight for racial justice, we are not alone in this fight – an optimistic sentiment that I have always believed but have sometimes yearned for more tangible evidence to support. As Black people, we have been bruised (figuratively and, in some cases, literally) and have become fatigued from a march that has lasted for generations – which is why, from my perspective, the sight of unexpected allies and marchers last summer was healing and restorative.
The recent conviction of Derek Chauvin in the killing of George Floyd marks another milestone in our collective journey to achieve racial justice, and I am hopeful that a diverse band of "expected and unexpected" marchers will again emerge. I don't necessarily mean "marching" on streets around the country (although I am supportive of such peaceful demonstrations) – I mean "marching" in the sense of engaging in the fight for racial justice in whatever form is feasible to the individual. Here are the brief stories of two unexpected "marchers" that I've encountered along the way.
Two New Marchers
Shortly after the killing of George Floyd last year, a white friend that I've known since high school (his name is Thomas) called me because he felt the need to, as he put it, "do something" in support of racial justice, but he wasn't sure where to start. He listened as I shared the pain and anguish I felt as a Black man that had watched the video of Mr. Floyd's death, and we discussed the racial inequity that plagues our country and offered our perspectives on what it will take for systemic change to occur. It was a meaningful, thought-provoking conversation, but I wasn't sure if it would spark my friend to act, to do something differently. I received my answer a week later when he sent me a text message with a picture of his brand new membership card -- he had just become a member of one of the oldest, most revered civil rights organizations in the country. It was just a start, but in his own way, Thomas had joined the march.
I thought about Thomas again two weeks ago while I watched a Black male television reporter interview a white man in downtown Minneapolis the day after the jury handed down a guilty verdict against Derek Chauvin. The reporter asked the man what he was thinking in the aftermath of the trial. Here is how he responded:
"I have a lot of learning to do myself. And so for myself personally, this has been a wake-up call for the privilege I've had, and I haven't even realized it, and the difficulty for all Black and Brown people. So I'm thrilled that justice was served."
The reporter then asked the man what he would do now, given that he had arrived at this new realization. He answered:
"I want to find out. I don't know. I actually Googled it today -- what can a white person do to help all Black lives matter? Just an open awareness to see that, you know, institutionally and systemically, I've got benefits that other people don't have." It sounds to me like he's about to join the march.
I suspect that many of us – of all races -- may relate to what Thomas and the man in Minneapolis expressed. We may feel the need to engage, to march in our own ways, but we aren't sure where to begin. If you feel this way, you need to look no further than to the nonprofit sector itself. There are many dedicated criminal justice/police reform-focused nonprofit organizations that would welcome your support and offer you the opportunity to get involved. Here are some of the more prominent nonprofits that focus on this work:
Conclusion
Some of the nonprofits I've listed here are long-time leaders in the march for racial justice; others are newly-formed and have joined the march much more recently. What they all share is a devotion to the cause – and they could use our help on this long, arduous journey. The conviction of Derek Chauvin was a momentous victory for holding officers of the law accountable when they take the lives of unarmed people of color – but the more recent deaths of Daunte Wright, Ma'Khia Bryant, and Andrew Brown Jr. (all of which happened in April alone) at the hands of police are sobering reminders that there is more work to do, more road to travel.
The march continues.
Will you join it?