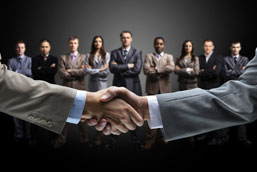 By Aaron Hurst, president and founder, Taproot Foundation; board member, BoardSource Board of Directors
Board recruitment is broken — and I'm not the only one who thinks so. In recent surveys conducted by the Taproot Foundation and BoardSource, nonprofit leaders reported frustration in securing the right talent and, specifically, with knowing where to look for it.
From my perspective, there are two basic problems with how the majority of nonprofits approach board recruitment.
The first is a lack of transparency. Boards are like secret clubs with secret handshakes! Only current board members know how one goes about joining them. With no insight into how the process works, outsiders are left confused, intimidated, and sometimes with the impression — the wrong impression — that their knowledge, skills, and experience don't match up with board service.
The second problem is that most boards recruit new members primarily through their current members' networks, which make creating a diverse board a challenge — and I'm not simply referring to an ethnically diverse board here. A diversity of approaches and life experiences are vital for good governance. When current board members tap only their friends and acquaintances, the new recruits tend to have similar backgrounds to the current members.
The good news is that I firmly believe that these two problems can be solved, and easily. In 2010, for the first time, Taproot reached out to its pro bono consultants and nonprofit clients for nominations for our national board of directors, stipulating the critical leadership skills and experience required. We received more than 100 applications! Taproot staff members read through each and every one to determine who best met the selection criteria and then forwarded those names and applications to the board's governance committee. The governance committee members then selected its top two to three candidates for each of the board's open positions. Three board members and I then interviewed each candidate and made our recommendations to the committee and the board. The result? In March 2011, the board elected five stellar new members who were on-boarded as a class the day before Taproot's annual board retreat. In 2012, we'll be electing another class of board members who have been identified and recruited in the same way.
Taproot has found a way to "fix" its "broken" recruitment process. Are you attempting to fix yours? If so, please share your experiences with us here.