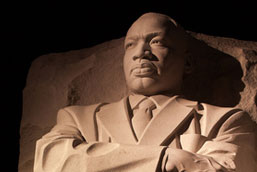 By Vernetta Walker, vice president of consulting, training, and assessments
On August 27, 1983, I marched with half a million people to the Lincoln Memorial in Washington, D.C., to commemorate the 20th anniversary of Martin Luther King, Jr.'s historic March on Washington and to call for a national holiday. In November 1983, President Reagan signed the bill establishing the third Monday of every January as the Martin Luther King, Jr. National Holiday.
Fast forward 30 years, and I'm proud to be working in a sector serving the diverse communities of America and giving voice to so many. We've come a long way, but there is still much work to be done. More nonprofit organizations are talking about the importance of diversity and inclusion, but, as a sector, we're still struggling to develop inclusive boards. When we look at the racial makeup of nonprofit boards, they are still about 84 percent Caucasian — the same as 20 years ago — despite our country's rapidly changing demographics. That's why I was so pleased to learn of the work of Big Brothers, Big Sisters of America's Nationwide Leadership Council (NLC).
NLC participating agencies have committed to improve board diversity and inclusion, become champions of change in the network, and lead by example to show that board diversity and inclusion is doable and results in both short- and long-term benefits for agencies and the children they serve. NLC has developed "A Tactics Guide to Building a Diverse and Inclusive Board," and they're tracking progress. Just this week, NLC members came together to learn from their successes and challenges and to continue the conversation about what it means to be inclusive. Worth noting is that, collectively, NLC boards increased board member diversity by four percent in one year, and NLC board diversity is trending ahead of the Big Brothers, Big Sisters network by several percentage points.
As I reflect on the significance of MLK Day, I know the numbers matter, but I'm more excited about the shift within the sector to focus on inclusion. Diversity recognizes differences, but to be inclusive, we must respect, value, and make active use of differences, not just appreciate them. If we can truly move the dial on diversity and inclusion as a sector, we can accomplish great things together.