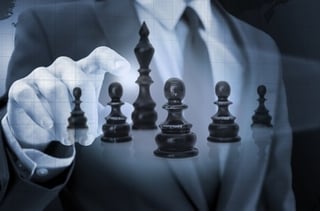 "It really matters who's in charge." James Carville spoke these words at the 2015 BoardSource Leadership Forum (BLF), held last November in New Orleans. I attended the conference as a Judith O'Connor Scholar. Even though it's been several months since the conference took place, I cannot shake the simple truth in his words. They have kept me grounded and unexpectedly become my rallying cry.
I applied for a Judith O'Connor Memorial Fund Scholarship for Emerging Nonprofit Leaders because I wanted to gain insight about the dynamics between a governing board and the chief executive. I am a nonprofit development director hoping to shift into an executive director position in the next few years, and BLF really opened my eyes to a number of blind spots that I did not realize existed in my own perception of the executive director role.
On the board governance side, I was bowled over by the depth of knowledge and experience from the leadership at the conference. From better presentation of financials to recruiting and retaining high-performing board members, I was able to not only pick up some wonderful advice, but also found myself re-energized for the tasks that lay ahead of me in the coming months as a board member.
Just before the conference, I had accepted the role as president elect for the Young Leadership Council (YLC) in New Orleans. Within that role, I'll spend a year as president elect in 2016, a year as president in 2017, and a year as past president in 2018. I had a close relationship with the Council's executive director going into my new role, and was looking forward to working with him to make some much-needed changes to our stale board processes and structures.
And then our executive director quit!
My strategy at BLF was to invite another board member to attend the conference to help divide and conquer the lessons and information being shared. While she focused on attending sessions on how to overhaul our board meetings, I attended sessions focused on building board diversity and increasing board engagement and how we – as a board composed of professionals under 42 – could better prepare our young board for leadership after YLC. We could not wait to get back and share our new skills and best practices. After a great first day at the conference, I got a good night of sleep and then on Tuesday morning…
Our finance director of seven years quit!
I knew this moment in our organization's history was critical – and I was incredibly thankful that I could immediately receive topical training at BLF! Inspired by the winner of the 2015 Prudential Leadership Awards for Exceptional Nonprofit Boards, the Legacy Foundation, we made an intentional effort not to be overwhelmed by crisis, but to rather look for – and find – opportunities to build an even stronger organization. Knowing that "it really matters who's in charge," I advocated for a new process to choose the next executive director, including hiring an external consultant to help with recruiting and interviewing high-quality candidates. With her help, we realized that we could change our board culture, recommit to our mission, and continue the critical work of building towards the goals in our strategic plan with the right hire and onboarding plan.
So after many weeks of indigestion and sleepless nights, I feel confident about the direction we're going in and the "real" work – the work my board colleague and I learned about at BLF – can begin!