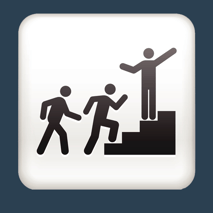 Remember when you were young and heard an older person say, "Oh I wish I knew then what I know now?" Now that I'm older, I understand and find myself thinking the same thing!
I started down this path of thought as I was offering my niece (a Michigan State University senior) some tips on how to navigate the first day of her first professional internship. It struck me how much of my knowing, learning, and doing I now take for granted — 40 years after I was in my niece's shoes. Be early; dress professionally even if they told you the office is casual; ask questions; show initiative; etc. Everybody knows these things, right? Well no, I've since learned, not everyone does.When I first started my career in the nonprofit sector, there was a lot of learning to do — and much of it was by the seat of our pants. At that time, there were no resource papers, publications, books, blogs, or conferences to go to. There were no discussions of best practices. There were no organizations like BoardSource, Independent Sector, or GuideStar to provide measurements or standards. Colleges and universities had no courses, let alone degrees, in nonprofit management. Entire organizations were often built on the vision and passion of one individual or of a small group of people. Donors were moved to fund them by an impassioned conversation, a heartfelt plea, or a "whoa is me." And everyone just "did the work," without recognition of outcomes or evaluation.
As I spent time with my niece, I was reminded of "The Four States of Competence," a concept developed by Noel Burch in the 1970s, building on the work of sociologist Abraham Maslow. Today, after volunteering with, being employed in, or consulting the nonprofit sector for the vast majority of my professional career, I am "unconsciously competent." I have exercised the muscle of what I have learned so well that my understanding — my "knowing" — has become almost second nature, and so I am able to impart my knowledge to others easily. We are all typically well versed in this way about something in our lives.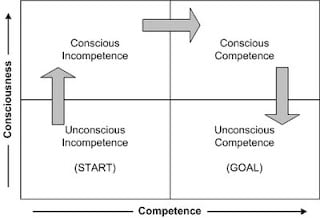 Source: https://examinedexistence.com/?s=competence
What trips up some of us "unconsciously competent" individuals is having a lack of appreciation or even empathy for those who are still in the learning place — who may be unconscious of their incompetence. I certainly am guilty of this. How is it possible, I sometimes wonder, that someone has not heard of BoardSource's Ten Basic Responsibilities of Nonprofit Boards or Chait, Ryan, and Taylor's Governance As Leadership or the fiduciary duties?
Then I remind myself: There are more than 1.5 million nonprofits in the United States, all of which look to volunteers to serve on their boards. Many, if not most, of these individuals have no experience with governance, have never served on a nonprofit board, or, in some cases, have only served on ineffectual or dysfunctional boards. What's more, even veteran board members can get stuck, doing things the way they've always been done, not realizing that there are other, more effective ways to govern. The fact is, many new nonprofit board members are simply unconsciously incompetent — they just don't know what they don't know.
And that's OK. It's my job — it's our job — to turn the right light bulbs on in the right way, and to help our governing leaders make their way through the various states of competence as quickly and productively as possible. Especially as our demographics are changing and the need for board diversity is increasing. Newbies will be the norm.
It begins with awareness — with "knowing." When one serves on a nonprofit board, anything less than knowing cannot be allowed. But we must not stop there. It is my observation that getting to the "doing" stage trips up many a nonprofit. Unless we commit to make success happen at the "consciously competent" and "unconsciously competent" stages, our organizations cannot and will not succeed.
And it must be an ongoing effort as new members join the board, old members rotate off, crises occur, executive leaders come and go, etc. All require careful navigation while taking stock of each individual's learning, knowing, and doing states. And don't make assumptions, don't take things for granted. The stakes are too high.
I invite you to take the time at an upcoming board meeting to have a generative discussion about your board's state of competence (collectively and individually) on Noel Burch's grid. It just might lead to some learning, knowing, and doing.