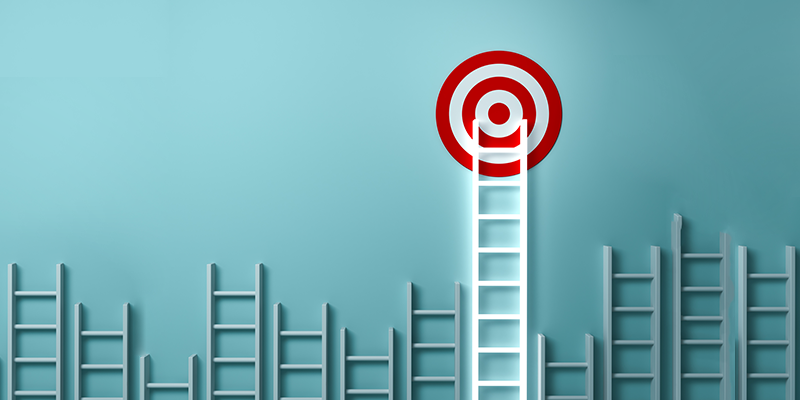 As your organization works to plan your next fundraising campaign, one of the first and most important steps you'll take is to set your goals. Your organization will want to set realistic goals that are based on — but not limited by — your past efforts.
To make sure your organization's fundraising team, your supporters, and your board members are prepared for your next fundraising campaign, let's take a look at some of the most important steps in setting your nonprofit's fundraising goals.
1. Break down your overall fundraising goal into gift ranges.
Whether you're embarking on a capital campaign to fund a significant future project, seeking increased contributions to your annual fund, or working on another type of fundraising effort, you need to set goals for how much you want to raise.
Specific fundraising goals result in more realistic gift asks, which your supporters will appreciate.
Beyond determining the total fundraising goal for your upcoming effort or project, your organization's team will want to make sure that you do the following:
Evaluate past goals. How does your current goal compare to your past fundraising campaigns? Was your organization successful in reaching those goals? Use those past efforts to inform your new goals.
Break down your total goal. After setting your overall fundraising goal, create a gift range chart that breaks down the goal into the different size gifts for which you'll ask your supporters. Your organization can do this on your own or partner with a nonprofit fundraising consultant.
Begin identifying prospective supporters. With the help of your board and your fundraising team, determine some of the first supporters you want to reach out to and the gifts you want to ask them for. Creating a plan for connecting with prospects is an important step in turning a large-scale campaign into a doable fundraising effort.
2. Learn more about your supporters before asking them for gifts.
Your current supporters value the work that your organization does each day and most will be happy to contribute to your campaign, especially when you reach out to them in an individualized manner. Learn more about your supporters before you approach them to strengthen their connections to your organization.
One of the most effective ways to do this is to conduct prospect research. In this process, your organization gathers data that indicates a given supporter's capability and willingness to contribute to your campaign. Some of the most significant prospect research data points include the following:
Philanthropic indicators. Supporters who have contributed to your organization and others like it in the past are among your most important prospects. Reach out to individuals who have demonstrated through their past giving that they value your causes. Be sure that you explain how your current fundraising campaign or effort helps your organization work toward your mission.
Wealth markers. These indicate a supporter's capacity to give and include data points such as real estate ownership, stock holdings, and business affiliations. Wealth markers help your organization determine the appropriate size gifts to ask for. Identifying business affiliations can also open up the possibility of corporate support for your campaign or project.
Major giving potential. To reach your most ambitious fundraising goals, your organization will need to identify and reach out to supporters with the potential to make major gifts. Both philanthropic indicators and wealth markers can help you determine who among your potential supporters is likely capable of and willing to make a major gift.
Your organization can conduct prospect research on your own or with the help of specialized software that can scan large databases to gather additional information on each of your potential supporters.
3. Connect every fundraising goal you set to your organization's mission.
Your most recent fundraising effort isn't isolated from your past and future work. It's an integral component of your organization's beneficial impact on your community. As you communicate your goals with potential supporters, demonstrate how these goals fit into your overall mission.
Supporters are more likely to contribute to your campaign — and remain supporters long after it's over — when they understand exactly what their gifts are helping to make possible. As your organization's team develops ways to market your campaign, remember to do the following:
Reach out to supporters wherever they are. Learn your supporters' preferred communication channels — online, over the phone, through the mail, or in person — and create communications for each medium that present your fundraising goals clearly and explain how your supporters' gifts will be applied to these goals.
Maintain a consistent brand and message. Especially for returning supporters who already know and love your organization, consistent branding and adherence to your organization's overarching mission are important components of all communications.
Demonstrate personal investment. Engaging every member of your organization's team in the process of reaching your fundraising goals is a critical factor in your success. When everyone involved with the campaign or effort understands the importance of your goals, they'll be better able to share them with potential supporters.
4. Provide your supporters with multiple ways to help reach your goals.
Just as your supporters likely have many different reasons for wanting to support your organization, they're almost certain to have varying preferences when it comes to choosing how they want to make their gifts. Offer your supporters multiple giving options to make the process convenient for them and help your organization reach your fundraising goals.
Your supporters' preferred giving methods are often connected to the giving levels at which your organization expects them to contribute. Mid- and lower-level supporters will appreciate the convenience of online methods, while those with the potential to make major gifts will most likely need to be asked in person.
Be sure that your organization is prepared to accept gifts from the supporters you reach out to in the following ways:
In person. Interaction with your nonprofit's team members is especially important for supporters who are capable of making major gifts. In-person giving also strengthens relationships between high-level supporters and your organization, creating partnerships that can help you reach future goals.
In writing. Supporters at various giving levels will appreciate thoughtful communications from your organization in written form. Whether you choose to distribute these letters electronically or via direct mail, personalize them to specific supporters as much as possible and be sure to clarify how their gifts impact your organization's goals.
Online. Your online giving page should be branded to your organization and feature an easy-to-use design to increase donation page conversion rates as visitors to your website become supporters. You can include pictures, testimonials, and other content that reflects your mission throughout your website to encourage giving.
In addition to being a popular location for giving, your nonprofit's website provides another place to share information on your fundraising campaign and the good work it supports.
5. Keep records on all past campaigns to help you set future goals.
Your organization learns more each time you complete a fundraising campaign. As you're finishing up your most recent effort, take time to record what went well and what could be improved to help you set your goals for your next fundraising push.
The first question you should ask is whether or not you raised enough in gifts to fund your anticipated project. However, you'll also want to meet with your team to ask the following questions:
Did you meet your goals? Aside from your overarching fundraising goal, did you secure enough gifts within each of the different ranges you determined prior to the start of your campaign? What giving ranges were the easiest and which were the most difficult to find support for? This information is essential to helping you set future goals.
Did you connect with your supporters? Strengthening your relationships with your supporters is an important component of any successful campaign, as you'll want to be able to count on their contributions to future efforts. Discuss the ways in which your campaign resonated well with your supporters as well as additional steps you could take to connect with them in the future.
Did your campaign run smoothly? Ensure that supporters were well-informed about the details of your campaign and found making their gifts an easy and convenient process. This will encourage them to give again.
Remember that every organization is different and yours should only abide by the best practices that work for your nonprofit and the goals that you have set. Your past campaigns, including your most recent ones, present excellent opportunities to reflect on what worked and what can be improved for the next time around.
Your organization should aim to set fundraising goals that are ambitious enough to get supporters excited and open up new possibilities for your work but are realistic enough to be achievable. With some planning ahead and a mindset that is both forward-thinking and reflective, you're sure to succeed.
Editor's note: BoardSource believes it is critically important for nonprofits to be strategic about how they raise funds and how they measure their fundraising effectiveness. The organizations with the most strategic and sophisticated fundraising strategies work to build a robust program that balances the risks and rewards of different fundraising tactics through a blended portfolio or strategy. Learn more about Measuring Fundraising Effectiveness.