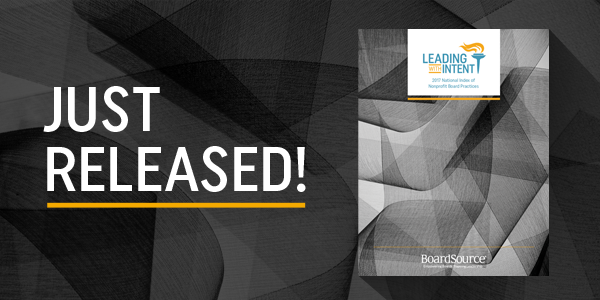 Today marks the ninth release of BoardSource's biennial study, Leading with Intent: A National Index of Nonprofit Board Practices. Formerly known as the Nonprofit Governance Index, Leading with Intent takes an in-depth look at the current practices and trends of nonprofit boards. The 2017 report and findings show some good progress on the part of today's boards, and we congratulate you for that. Other findings, however, indicate a lack of commitment to stated priorities.
Key findings from Leading with Intent 2017
Many approach the report, which is focused on four major aspects of board leadership — people, work, culture, and impact — with curiosity. "How does my board compare to our peers in its composition, culture, and practices?" That's a good start, but we encourage you to do more — to ask yourself "What do these findings tell us about how our board needs to change? Are we as committed as we need to be to exceptional leadership?" The final section of the report is designed to help you begin that reflection process and to engage your colleagues in the conversation. Based on our findings, we recommend the following five priorities — and provide questions to help you get things underway.

Make it an ongoing priority to deepen your board's understanding of your organization's programs — what you do, why it matters, and how you know you are having an impact.
Think strategically and creatively about how to position board members for stronger leadership outside the boardroom through fundraising, advocacy, and broader community outreach.
Start a conversation about what a commitment to diversity, inclusion, and equity would look like for your board, your organization, and your work in the community.
Ensure that every board member starts his or her service with a firm understanding of his or her roles and responsibilities — both what they are and what they aren't — and continually reinforce the importance of role understanding throughout every member's service.
Work to cultivate a culture of trust, respect, and mutual accountability within your board by creating opportunities for your members to engage with each other in a way that deepens their understanding of each other and their shared commitment to the organization's work.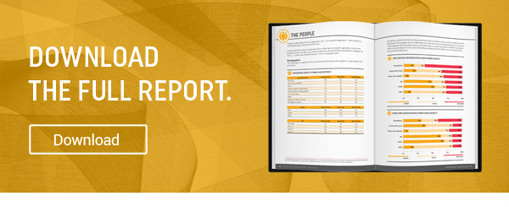 We encourage you to download the report now and begin exploring our findings. Use the insights to start a conversation with your board. Download the 2017 study.
---
Leading With Intent in the news: